Roon Core Machine
NADAC+Player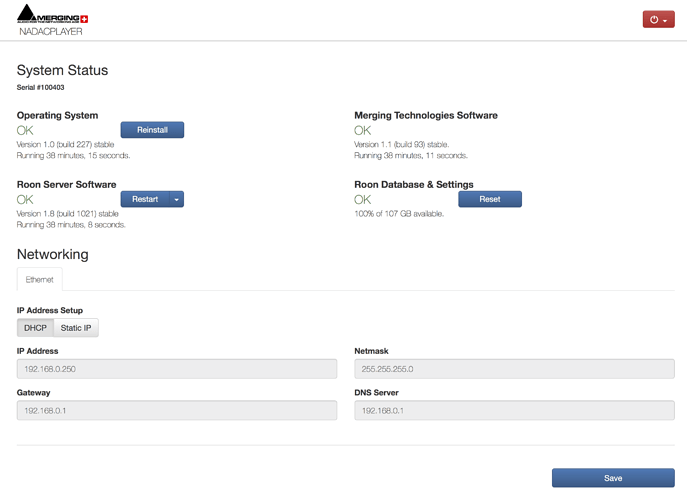 Operating System: Version 1.0 (build 227)
Roon Server Software: Version 1.8 (build 1021)
Merging Technologies Software: Version 1.1 (build 93)
Roon Database & Settings: 100% of 107 GB available.
Networking Gear & Setup Details
TELSTRA SMART MODEM GEN 2 (wifi Modem Router)
Modem Make Model: Technicolor DJA0231
Version Egyptian Blue (20.3.c)
DHCP Enabled
Wifi 2.4GHz & 5Ghz, Access Points Enabled
Connected Audio Devices
The NADAC+Player is a music streamer with built-in Roon Core, a DAC and streamer. It requires ethernet LAN connection as well as wifi to work with Roon app. Music is outputted via balanced XLR cables to an integrated amplifier.
Connection chain: Wifi modem Router > Sotm SNH-10G Network Switch > NADAC+Player > Amplifier
Number of Tracks in Library
Using Tidal (90 Million tracks)
Description of Issue
Roon randomly disconnects from the NADAC Player and is unable to reconnect. With continuous attempts - restarting router, restarting player, restarting Roon Server Software sometimes successful. It feels like pot luck if it finally reconnects.

Roon logs out Tidal randomly. I've noticed on two occasions, when it wants to play a song that Roon says 'can't find music from your library' its usually when Roon disconnects from the Player. When I manage to get Roon to reconnect, i would need to log in Tidal.
Note: I used to have a Synology NAS connected but have since turned it off for troubleshooting. I have Reset the Roon Database & Settings.