Before I start, I KNOW this problem is almost certainly arising as a consequence of the complexity of my wifi network. So folks at Roon, PLEASE don't waste time on this, unless you HAVE time. IMO supporting 1.3 is way, way out in front of this as a support priority. Maybe someone in the community can help…
OK. Please see below a diagram of my home network, as it applies to Roon. With its repeater and media bridge, it's more complicated than I'd like it to be. But everything is where it is for a reason. It may look a mess, but it's a planned mess.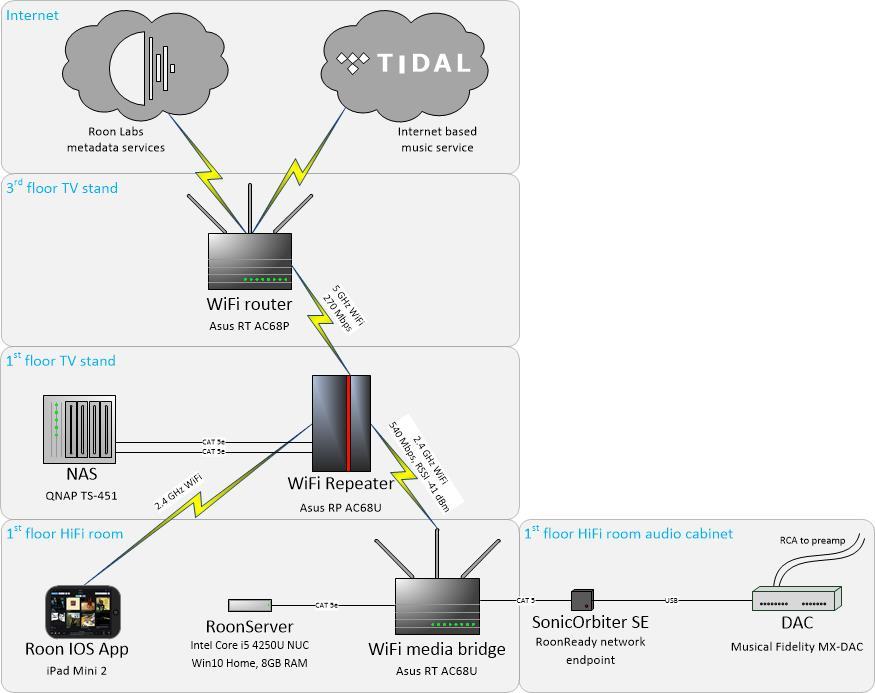 My problem is that on my iPad Roon app, discovery works perfectly (the app can find the RoonServer), as long as the wifi connection is over one of the wifi networks handled by the repeater, the Asus RP AC68U. But if I move out of range of the repeater, and into range of the networks handled by the router - an Asus RT AC68P - the iPad Roon app can no longer find the RoonServer.
Anyone have any idea why?
The router (Asus RT AC68P) can ping the RoonServer NUC, so traffic is traversing the repeater (Asus RP AC68U) and the Media Bridge (Asus RT AC68U). In fact, I can use a port scanner on the iPad, while connected to one of the router's wifi networks (one the Roon app cannot discover the NUC from), and successfully detect a lot of open ports on the RoonServer NUC. So discover should work.
And just to add fuel to the fire, I understand that Roon discovery is done with UDP port 9003. Well, I can't detect that port in a scan from the iPad, no matter what wifi network the iPad is on. So I'm at a loss as to how the RoonApp is even finding the RoonServer at all.
Thoughts anyone? Here's where I need to insert a "scratching head" emoji.