So, I updated my STi5 last night, but ever since Roon has been unable to connect to my network share
It worked previously as \DiskStation\music, but is no longer recognised. I removed and tried to re-add the share, but I get an 'unexpected error message'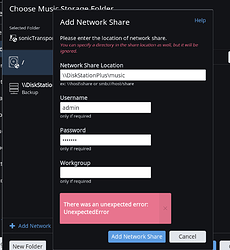 None of the usual reboot, restart type tricks worked this time round (router, NAS, STi5).
I eventually managed to connect the share by using the IP address directly, so there must be a DNS issue somewhere (I cleared the Roon cache, but this made no difference)
Please advise where the cache resides that I need to clear, and how to do it (I'm not a linux expert I'm afraid).
thanks
Nick
PS. FYI - DNS name resolved correctly on windows laptop and by TV.