Core Machine (Operating system/System info/Roon build number)
Windows 10 / tower PC / 1.8, build 756, 64 bit
Network Details (Including networking gear model/manufacturer and if on WiFi/Ethernet)
Everything over wired Ethernet (except of course the iPad remote) - this is not a network problem…
Audio Devices (Specify what device you're using and its connection type - USB/HDMI/etc.)
Devialet Expert connected by Ethernet
Description Of Issue
I am looking for Cantatas from Bach, where John Eliot Gardiner is the conductor.
I enter the following search string in the TIDAL app on my computer: "bach cantatas gardin". The result are dozens of albums, that meet the criteria, see screen shot.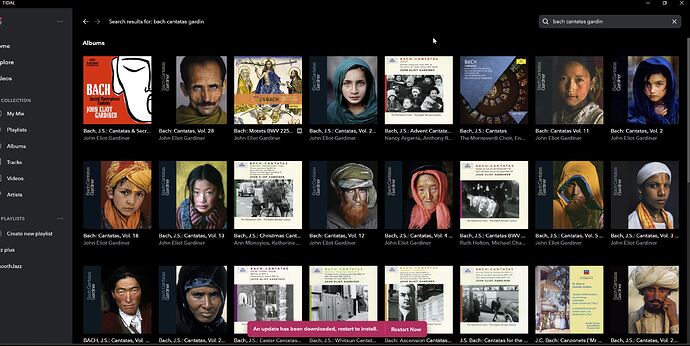 When I do the same search in Roon, I get just one composition as in this screen shot:

What do I have to do to get the same result in Roon?
(Obviously Roon has TIDAL connected as a service:

)