Roon Core Machine
Mac Mini, (M1, 2020) OS 11.5.2, 8 GB RAM
Remote controller: MacBook Pro (16inch, 2021), OS 12.1, 16GB RAM
Networking Gear & Setup Details
Xfinity router, core connected via Ethernet; MacBook via WiFi
Connected Audio Devices
Meridian Explorer 2 connected via USB to core and then to stereo system
Number of Tracks in Library
2783 Albums
Description of Issue
FIRST: The CONSTANT updates are making the system completely unusable. I want to be able to–and was able to for years–to play music at any of 4-5 locations in my house by using any controller (my iPhone, one of my 3 MacBook Pros, or the Mac Mini core or another Mac Mini) to play in any of 2 permanently installed "players" (the MacMini Core connected to my stereo, another MacMini connected to a secondary stereo) or at the local outputs of my MacBooks or the iPhone.
I do not play daily. So now, almost EVERY time, I try to play there is a message DEMANDING an update and the music will NOT play. Then I have to go downstairs, switch on the projection monitor on the MacMini with core to see what's going on and realize it demands an update or is doing a database update. I understand this happening every now and then, but not EVERY SINGLE TIME!!! When I look at your update log, there is one every few days!!!
The whole point of the system, is so I DO NOT have to walk down and switch on the main system, but can play in any room whenever I want.
Here is the current problem: On my main MAcBook Pro I cannot play at all. It insistes an update is necessary, but when I click "Update All" it simply quits and never re-launches. When I re-launch manually, I still have the old version.
When I just try to use the old version to play, It first does not play, then plays a few seconds of music, then stops producing a sound, while the player progress jumps ahead wildly, then back to zero on the same song (playing a Tidal song)
See screenshot of versions installed (again, the MacBook Pro does not update, no matter what I do) and screenshot of song I'm trying to play.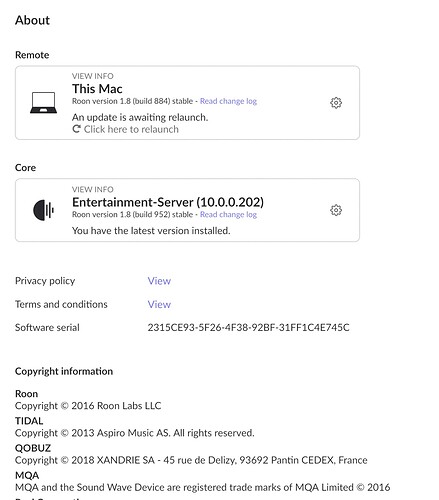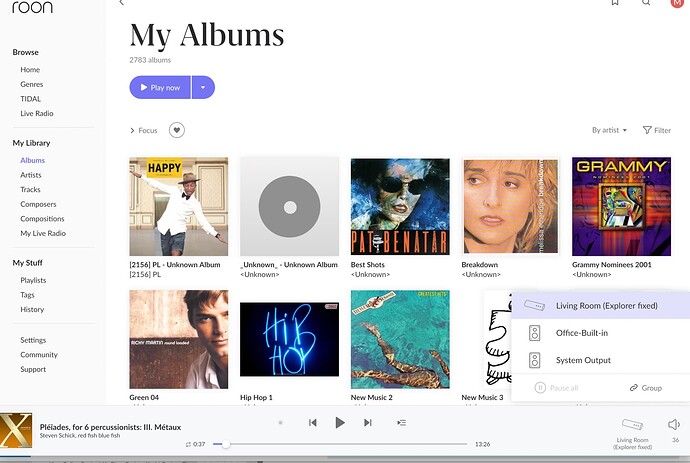 Please help.