Did you enable it in Roon. Check the Audio page in Settings.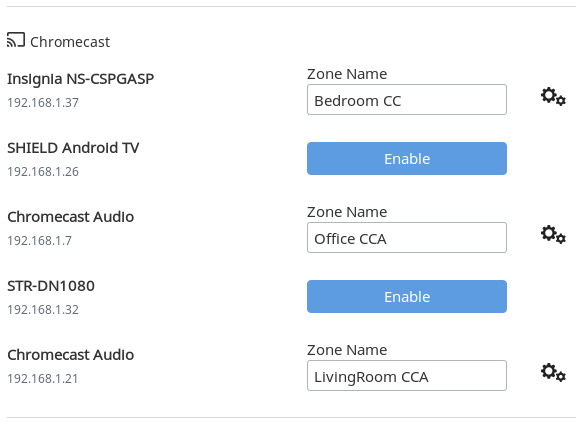 Tim
I don't see the Chromecast "section" when in settings. I see HQPlayer, Sonos, etc., but not Chromecast…Thank you.
I mentioned that because I initially forgot to enable the Insignia CC device I picked up last night and could not stream to it.
I'm relatively new to Roon but based on what I have read here and tried on my system you might verify the following if you have not already done so:
Are you running 1.5 build 334 on your Core?
Are the devices on the same subnet? All my devices have 192.168.1.x addresses.
Can you ping the CCA from your core? You should be able to get its ip address from the Google Home App. Unfortunately a CCA does not have a web interface.
Of course there is always the tech support last resort … reboot your Core.
Good luck … Tim
Yes, I can ping it from my Core PC…Thanks!
Assuming that your last response means that you are running the version of Roon that supports Chromecast and your Core and CCA are on the same subnet and you can pass traffic between them since you can ping the CCA from your Roon Core then based on what I know "IT SHOULD WORK".
Hopefully someone else with more knowledge will jump in and provide a solution.
Tim
Hello @hammer,
Thanks for contacting support, I'd be happy to take a look over this issue with you. As Tim mentioned, the Chromecast device should show up in the settings and something may be preventing the discovery of it. Can I please ask:
Have you rebooted all of you networking gear, including Router, Core, any switches you have and the Chromecast Audio itself?
Can you please let me know your complete networking setup here, please list the manufacturer/model of your Router, manufacturer/model of Switches you have, any Range Extenders you may be using, how your Core is connected in the setup (via Ethernet or Wifi) and how the Chromecast is connected in this setup (Ethernet or Wifi).
Please let us know the model number of the Chromecast Audio, you can find this on the bottom of the device itself
I would also double check to make sure that the Chromecast is not connected to a "guest" network that is isolated from the Core's network as that could be preventing discovery
I look forward to your reply when possible and we can continue troubleshooting from there.
Thanks,
Noris
Hi, yes, I have tried rebooting all my devices. My core runs on a pc connected via Cat6 cable to an IBM G8000 switch. My wireless AP is also Cat6 wire connected to that switch and the ChromeCast Audio device is connected wirelessly to that AP. Spotify, the Google app both see the CCA, but Roon does not. Thank you.
Hello @hammer,
Thanks for confirming your setup, can you please also let me know the model/manufacturer for your Router and Access Point that the CCA is connected to? The IBM switch that you mention seems like it's a managed switch, we have had reports from Users indicating that managed switches require a bit more setup than regular switches to communicate properly.
Can you please double check your Multicast settings on the switch, router and access point, and see if you have the option to enable "IGMP Proxying" and "Flow Control". There are a few more suggestions for managed switches/access points on our Network Best Practices guide, linked here: https://kb.roonlabs.com/Networking_Best_Practices#Router_Specific_Settings.
You can also read more about the Flow Control settings in these threads:
Please let me know if any of my suggestions resolve the issue at hand.
Thanks,
Noris
I think everything is enabled and configured…for example, I can see Roon Bridge on DietPi, all my Sonos speakers, my Airplay devices, HQPlayer/NAA…just not the ChromeCast Audio. Also, not my apple devices, Spotify can see the CCA…it's just Roon that can't see it. Thanks!
Hello @hammer,
Could you try using VLC on the same PC that your Roon Core is running and streaming to the CCA device? Just load an arbitrary FLAC file into VLC and follow the instrucitons in this article I've included
-John
@john. Thanks for the suggestion. From the Windows 10 machine where Core is running, VLC does not see the CCA, but Spotify does. So, I don't think it's a switch setting issue. Thanks!
Hi, any updates to this? Maybe it's how VLC and Roon tries to connect to Chromecast? I've read that the API is not public and so maybe the reverse engineering used does not work in all scenarios? As I mentioned, Spotify is able to find the Chromecast fine so it's not a network issue…Thanks!
Hello @hammer,
Since VLC is unable to see the CCA, then this is likely a firewall somewhere in place blocking the connection or your Router/Switch is not properly routing the multicast traffic for your CCA.
Have you by any chance tried connecting your Core and CCA to an unmanaged switch or another router to verify if they show up as expected then? This will be the easiest way to confirm that this issue is with the network.
Spotify uses another method of communication via the cloud so even though it works fine through Spotify connect, this does not necessarily rule out the network being the issue here.
Thanks,
Noris
Thank you. Unfortunately, I cannot swap out the switch to test. Would you be able to tell me what setting I might need to change? As a reference, both Sonos and HQPlayer NAA work on this network via Roon. Also, the google home app on my iPad also sees the Chromecast device. Not sure what protocol they use…Hammer
Hello @hammer,
The last time I discussed this case with our dev team, they wanted to verify if this issue still persisted without the switch in the mix, just in case it's the cause for these issues. If you are able to test without the switch, even temporarily or at a friend's house, that would give us a great point. Otherwise, I can ask the dev team to see if they have any other theories on why the CCA does not show up and will let you know their feedback.
Thanks,
Noris
Hello @hammer,
I have discussed your case again with the team, we currently do not have this switch in our lab so we would not be able to advise specific settings, but you should look into any settings that can interfere with multicast traffic being properly delivered and adjust them so that multicast works as expected.
Often times these settings are "IGMP Proxying" or "IGMP Snooping" or "Enabling Multicast Routing". You may want to check the IBM G8000 Manual for specific instructions (Multicast information is on page 185). Other than checking these settings, getting an unmanaged switch temporarily in place would be beneficial in my opinion just to confirm that the switch is the reason for this issue.
Thanks,
Noris
Hi @noris, while I was not able to try without the managed switch, I inserted an unmanaged switch between my Core and the managed switch and now Roon sees the Chromecast! I don't know why it works, but figure I'd post this in case it'll be helpful to others! @hammer
Hello @hammer,
Thanks for letting us know that adding an unmanaged switch between the Core and the IBM has resolved the issue. Hope you have a great listening experience on the Chromecast!
– Noris
This topic was automatically closed 36 hours after the last reply. New replies are no longer allowed.