Content you're reporting an issue with
I have two recordings of Bartok's The Miraculous Mandarin. The DG recording with Abbado and the LSO decided that it needed 14 tracks while Fischer and the Budapest Festival on Philips divided the score into 9 tracks. DG used descriptive names for the track titles while Philips used tempo markings for the titles. As a consequence roon did not group the Abbado/LSO tracks as a single composition,as shown here (all 14 tracks doi not fit on the screen at once):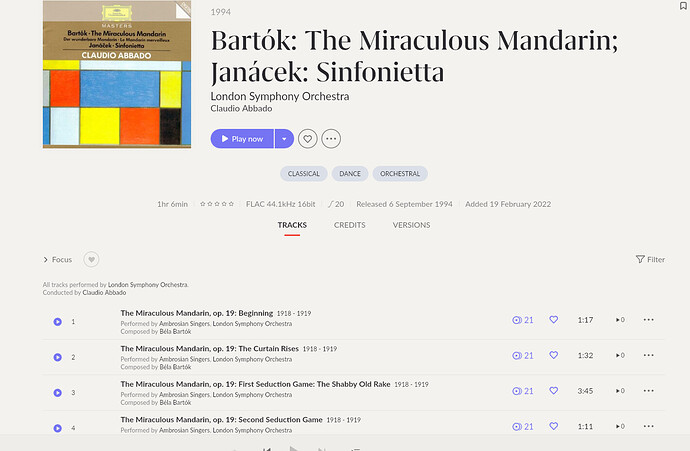 The Fischer/Budapest was properly grouped but I don't think I nedd to show that. As in other cases where roon's metadata didn't properly group tracks I edited things in MP3TAG. However, this time even when I told roon to use file data for multi-part compositional grouping, it did not do so. The display remained as I have shown above.
I should point out that roon's metadata did properly group the other two compositions on the Abbado/LSO disc (Bartok's, Two Portraits and Janacek's Sinfonietta
Have you made any edits to this content in Roon?
I changed the metadata preference for the multi-part to file rather than roon. I made no other edits in roon, but did add WORK and PART using MP3TAG as I have done successfully in the past.
Is the album identified in Roon?
The Abbado/LSO album in question is identified in roon.
Is this content from local files, TIDAL, or Qobuz?
It is a local file.
Here is an example of my edit in MP3TAG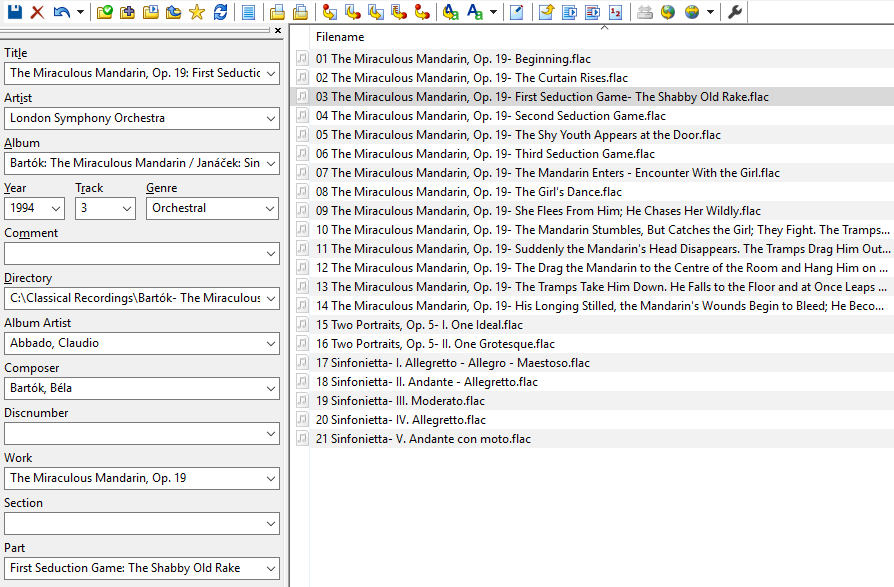 Screenshot of import settings
See previous screenshots
Description of the issue
How do I get roon to make a proper multi-part grouping for the Abbado/LSO disc recording of Mandarin?