Content you're reporting an issue with
Every album that has a MB entry as well as an Allmusic/etc entry. This Haydn album was chosen as an example, because I recently edited it on the MB side and am aware of it.
Have you made any edits to this content in Roon?
No.
Is this content from local files, TIDAL, or Qobuz?
Local.
Screenshot of import settings
Description of the issue
Album metadata sourced from AllMusic (or similar) correctly indicates composer vs conductor: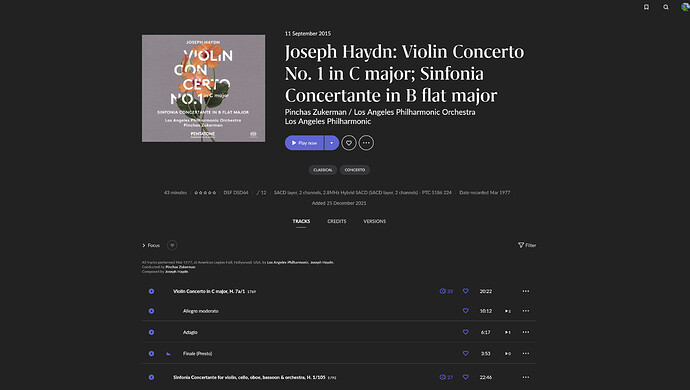 Album metadata sourced from Musicbrainz for the same album lacks this information, despite it being present in the Musicbrainz metadata as per the official Musicbrainz Classical Music metadata format - Composers/writers come first, are separated from performers by a semicolon, and Roon should be able to parse this standard format.
To be clear - the metadata on the Musicbrainz side follows the published MB standard - but Roon doesn't parse the published MB standard - and that's a problem.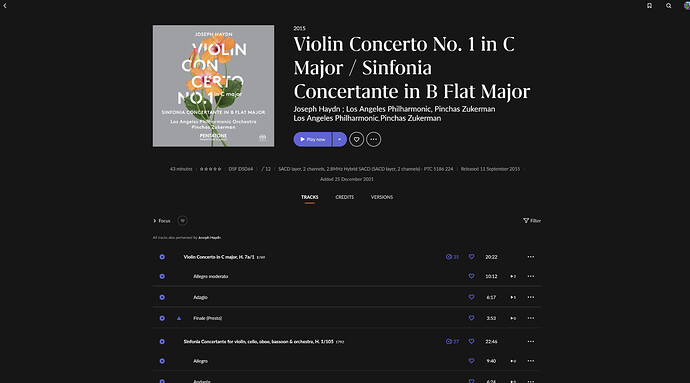 And the release matching screen showing the Allmusic/etc entry on top, and the MB entry on the bottom, for the same album: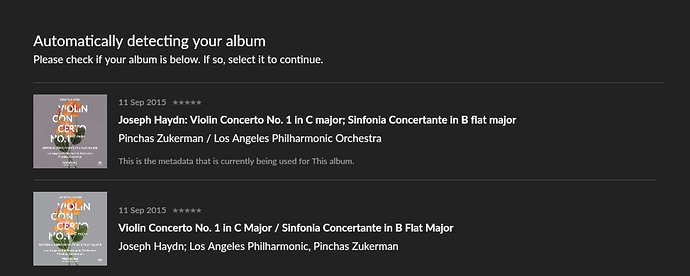 It seems to me that Roon should be able to track the published Musicbrainz formatting guidelines and extract at least basic metadata correctly for them. More info could be extrapolated by parsing Track and Release relationships, of course - but correctly parsing the release artist list and splitting on semicolons to separate composers from performers would be the baseline.
Roon should generally parse MB metadata content according to the published official style guides, and then the community can fix MB metadata that is not following the official style guides to get it to show up correctly in Roon - if Roon does not parse MB content according to the official MB style guide in the first place, but with some other ruleset, then it's a lose-lose for both Roon and MB - Roon doesn't get accurate metadata to consume, and MB doesn't get corrected metadata in the first place.