Core Machine (Operating system/System info/Roon build number)
Ubuntu 18.04 LTS / 2 vCPU & 4 GB RAM (VM) / Roon 1.7 (Build 710)
Network Details (Including networking gear model/manufacturer and if on WiFi/Ethernet)
VM across vnet to 24 Ports Unifi switch across to 8 port Unifi switch (all cat 6)
Audio Devices (Specify what device you're using and its connection type - USB/HDMI/etc.)
Audio Quest Cinnamon in to Naim Uniti Atom
Description Of Issue
I've have around 5 days left on a trial and have been testing out playback of DSD256 files. I know the Naim Uniti Atom supports up to DSD128.
There is around a 6 second wait from pushing play until the playback starts and sound is heard.
Sounds good, great in fact however there is some stuttering.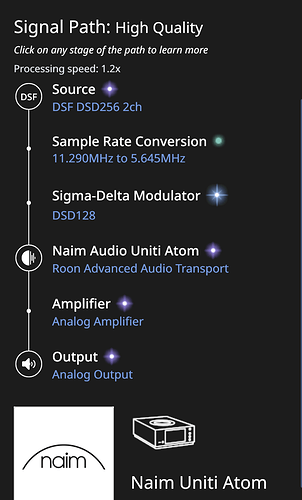 I suspect this is the fact that I have Roon Core on a VM (2 vCPU and 4 GB RAM).
Before I reinstall on to a small Dell Optiplex machine I have sitting in my cabinet (I didn't install it here to start with since I didn't want to run the machine the whole time) would folk agree that this is the most likely cause for the break in playback.
To get around this I usually need to pause and then click play again.
The does look busy… I might have answered my own question but any opinions or tweaks I can do on Roon to get around this appreciated.