Core Machine (Operating system/System info/Roon build number)
iMac running macOS Big Sur 11.1 / Roon Version 1.7(build 710)
Network Details (Including networking gear model/manufacturer and if on WiFi/Ethernet)
Linksys Velop Wifi Network
Audio Devices (Specify what device you're using and its connection type - USB/HDMI/etc.)
Nucleus with internal storage. Sonos Speakers, Amp with Airplay and Sonos Streaming. Klipsch Speakers via audio cables to Sonos Amp
Description Of Issue
After initial set up one year ago Roon was able to connect to the iMac Music folder. It eventually lost that connection and after much trial and error trying to re-set up a folder to the iMac proved unsuccessful for unknown reasons. Error message were "invalid path" or "host not found." Therefore, I began copying music files from the Apple Music folder to the internal SSD card installed in the Nucleus. What a pain!
Approximately two weeks ago I tried setting up the iMac Music folder once again using the Roon Add folder process. After several attempts since each time the system rejected the inputs that were based on Roon recommendations from the installation instructions I miraculously succeeded using "\192.168.1.28\music". My music is located in the Apple Music folder at "/Macintosh HD/Users/nestorperea/Music/Music/Media".
Everything worked find for about 2 weeks until I noticed that Roon was no longer connecting to the folder that had been set up. The message given in Settings Roon Nucleus for the folder is "This directory is not available. Check the directory or edit this folder if it's been moved".
To my knowledge I have not intentionally made any changes to the music folder or moved it so why would Roon Nucleus lose contact with it?
I'm running Big Sur and wonder if that could that be the interference? I also use Clean My Mac to maintain my iMac. Could that software be deleting a key code line that allows Roon to find the folder? Or something else not compatible with Roon?
I'm losing patience using Roon Nucleus as for the money it costs and the issues it gives are starting to become a nuisance. (Another nuisance it why does Roon separate/split an album into multiple versions when copied over? But that is another query.) I don't like Apple Music or ITunes at all but it seems that they may just be the better alternative to Roon.
Any help that can be provided would be very much appreciated.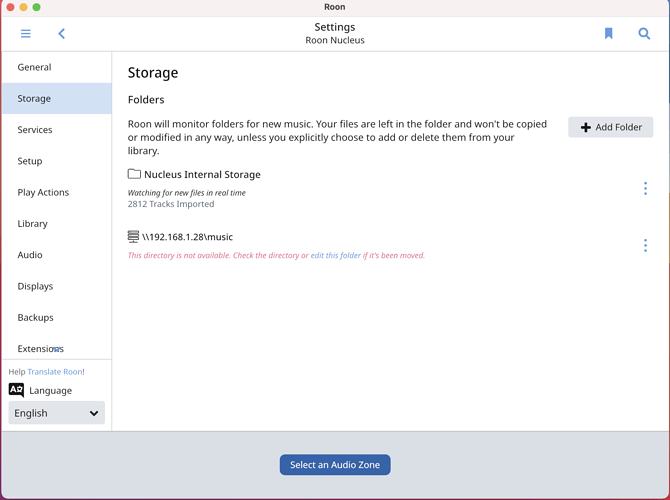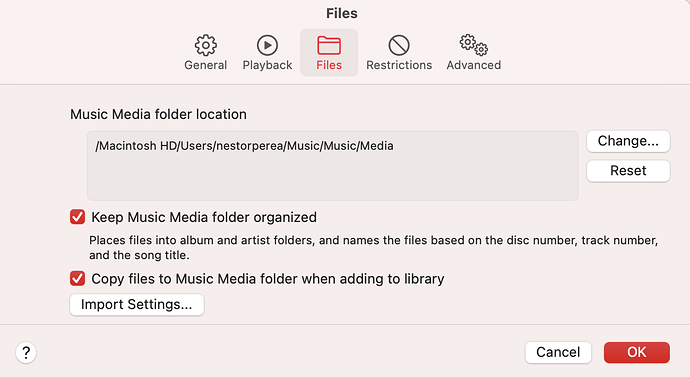 Thank you!
Modarin9