Core Machine (Operating system/System info/Roon build number)
CentOS 7 running Roon Server 1.7b610
Network Details (Including networking gear model/manufacturer and if on WiFi/Ethernet)
Not relevant, not a networking issue.
Audio Devices (Specify what device you're using and its connection type - USB/HDMI/etc.)
Not relevant, not a device issue
Description Of Issue
Roon often thinks Qobuz albums I have added to my library are not in my library. For example, see screenshot below. Roon Radio selected this track. Click on the album from the "now playing" at the bottom, and the album shows as "Not in library". However, clicking over to versions, you can see that I have this album from Qobuz added to my library. This has lead to much confusion when I hear something and think I need to be adding it, when I've already got it.
I've also noticed similar happening with "recents". I will random into a song, go to the album, click add to library, then click play all. The recently played will show the album as not in my library, but the recently added will correctly show the album as in my library.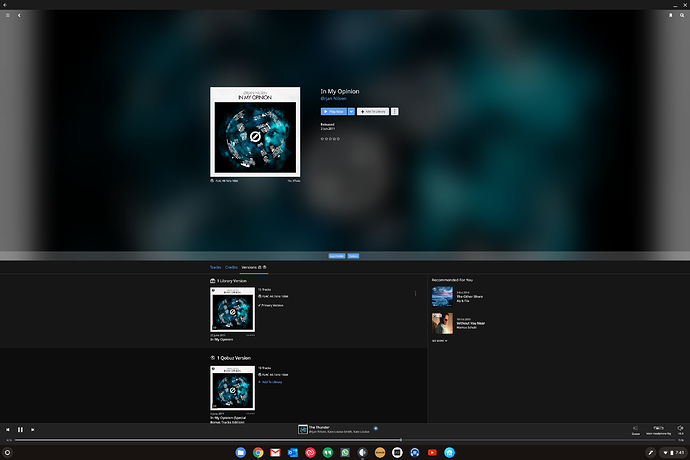 (Also, it'd be super awesome if you fixed display resolution scaling on Chromebooks. The Android app on a Pixel Slate is an exercise in reading fine print…)