Roon Core Machine
Apple MacBook Pro (15" 2017)
Cataline 10.15.7
3.1 GHz Quad-Core Intel Core i7
16GB 2133 MHz LPDDR3
Networking Gear & Setup Details
Virgin Media Hub 3 connected to laptop via ethernet.
Connected Audio Devices
Raspberry Pi 4b with Allo BOSS DAC connected to router via ethernet & to analogue amp via standard phono.
Number of Tracks in Library
Right now, just over 3,000.
Description of Issue
I was editing an album to ignore… Not sure exactly the term, track grouping or something, and the app bombed out. Now it won't restart. Every time I click on the app it starts to load then just disappears. I've restarted the mac, disconnected & reconnected the hard drive that contains the music. When I try to launch the app, it shows the start up logo animation, shows my library for a moment & then disappears again.
When I try to launch the app on my phone I see this: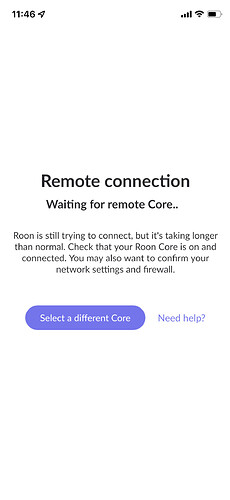 Firewall on the Mac is off. I use Little Snitch but that is set to allow all Roon connections…
I'm not sure what else to try.