Yup! Roon just did what I was trying to avoid for months now…ruining my Tidal favorites library…a selection of songs I had gathered over 3 years of dedicated listening with close to 2000 of my precious gems… mostly gone!
How? Well, lets start with a request I made a few months ago where I mentioned that it is damned hard to manage Roon favorites in line with Tidal favorites…let me explain. Roon's Tidal tab has a Tidal favorites tab…yes! but what that cant do is (and its pretty stupid) to sort songs by recently added songs (You can do it in the 'Tracks' tab in Roon…more on that later!). So, if I liked a song last night whilst listening to Roon, I would 'add that to my library' and that would update the Tidal Favorites tab as well as the Tracks tab and in turn would update the Tidal's own back end db so I could see that in Tidal's own app too. However, if and when I add an Album to favorites via the native Tidal App, ALL songs of that Album would automatically get added to both the Tracks tab as well as Tidal Favorites tab and via a return update to Tidal's own backend db, get added to Tidal favorites in the native app too (hoping it maked sense)…coz unlike, adding an Album somehow is read by Roon as if one likes ALL the songs in that Album which is hardly ever the case. Whilst in the Tidal app, if you favorite an Album it goes into the Favorite Albums folder and does NOT update or add ALL songs in the Tidal Favorites list.
Then there is the Roon search problem where you often cant find albums available in Tidal but not found in Roon (linked to Tidal). Try searching this album which started it all for me: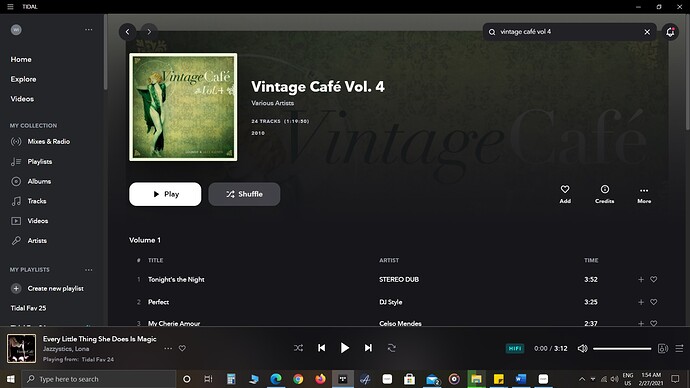 Anyways, When I couldnt find this album in Roon to listen to, I searched for it in Tidal and found it. I had no choice but to Add this Album as favorite Album in Tidal app so that it appears in Roon Tracks (as Roon stupidly adds ALL songs of any added Albums in Tidal App there…and it did!) and so I could listen to it. I generally then had to go to Tracks tab in Roon and delete ALL the songs just added by Roon except for anyone of those added songs so that it let me access the Album via Album name and then I would listen and add only the songs I liked to Favorites/tracks as I listened to that album. It happened the same way this time as well, in order to delete the album songs in Tracks tab…I selected (only) THAT added Album songs and deleted them except for one song of that album…except Roon went ahead and deleted a lot more than what I had selected for some reason. I know you might be thinking I selected ALL those songs to be deleted…Nope, I did double check before deleting and the library just messed up and deleted more than it was supposed to. Things got updated in Tidal's own db and I lost my Favourites at the Tidal server too…well most of them anyway!
Now, I cant prove that Roon deleted more than I asked it to (although would be interested to know if anyone else faced this before) to but here is the thing…the amount of scrolling and effort needed to select 1500 odd songs to delete (which ended up being deleted) isn't something one can miss…i selected the 1st and the last song of the same album (some 21 songs I guess) within 5 seconds and deleted them…also, I shouldnt have to do these wasteful loops in the first place…
I have yet tried to restore Roon to a previous date only to find that Tracks tab is live linked to Tidal.
TL;DR:
Roon's Tidal Favorites doesnt have a sort function - pretty basic thing missing there;
Roon's Tracks tab updates Tidal favorites whereas only the ones 'hearted' in those Tracks should update Tidal as favorites;
Roon takes an add album command from Tidal's own app (where Tidal only adds the album and not ALL its songs to Favorite Albums) to function as add ALL songs from that Favorited Album to Tracks and in turn adds ALL same songs to Tidal Favorite list;
You cant sometimes find Tidal albums in Roon;
Roon deletes more much more songs than you attempt to delete from its Tracks list (in my case it deleted most of my favorites) which when updated to Tidal servers mean you lose them everywhere!
Anyways, I have asked Tidal to restore my account to one day earlier status to see if i get my songs back, but honestly dont know any other way to recover my gems!
Thanks but no thanks Roon. And Roon is supposed to be a SOTA music and library management solution!