Never mind. This didn't work.
Yeah I think there's a consensus that the problem is graphics card related. However, for those of us with only one graphics card this fix unfortunately isn't available.
I tried this and it did nothing for me so that leads me to doubt there being a consensus about it being the solution. If it worked for you, feel pleased that your problem has been fixed. Not everyone is so fortunate
Using the less powerful embedded video card doesn't seem a feasible solution to me.
Roon Core Machine
QNAP NAS TS-453D 5.0.0.2055 8GB RAM 4 spindle raid 5 with 2Tb ssd front end cache
There are no zones configured on Core for audio output.
Roon Server
Status : Running
Version : 1.8 (build 988) stable
QPKG-Version : 2021-10-03
ffmpeg :
Database
Location: /Samsung_T5
1% of 931.51 GB used.
All music is stored on NAS in a dedicated volume with cache acceleration enabled.
6.31TB used 0.940GB free
Total files: 101,451
Audio files: 86,065
Image files: 15,352
Video files: 33
Networking Gear & Setup Details
ISP router
Edgerouter4
Cisco switch
NAS dual-port team NIC bond lacp
Client dual-port NIC IntelProset Team bond lapc
Connected Audio Devices
Creative Labs AE-9 Analog connected to Mu-SoQb Gen2 analog input port.
Roon is configured with a local zone to the AE-9 analog and is the daily driver configuration for this system.
Direct Mode: PCM 16-bit / 44.1, 48.0, 88.2, 96.0, 192.0, 384 kHz, PCM 24-bit / 44.1, 48.0, 88.2, 96.0, 192.0, 384 kHz, PCM 32-bit / 44.1, 48.0, 88.2, 96.0, 192.0, 384 kHz, DSD64 (2.8 MHz)
USB Topping D90 ASIO
JRiver client & server are running often but never use the sound device
Topping, AE-9 and NVidia graphics drivers are up to date.
Number of Tracks in Library
84,500
Description of Issue
Roon Windows 11 client closes for no reason and no message is displayed. The following is recorded on occurrence in the System log.
Faulting application name: Roon.exe, version: 1.0.0.0, time stamp: 0x62c5f2b8
Faulting module name: System.Core.ni.dll, version: 4.8.4515.0, time stamp: 0x624cf626
Exception code: 0xc00000fd
Fault offset: 0x00000000003444c7
Faulting process id: 0x8e14
Faulting application start time: 0x01d8994878825793
Faulting application path: C:\Users\xxxxxx\AppData\Local\Roon\Application\Roon.exe
Faulting module path: C:\WINDOWS\assembly\NativeImages_v4.0.30319_64\System.Core\a737f3eeae73b756d3851b2550f1c683\System.Core.ni.dll
Report Id: 789f9ff7-c789-472e-8f0d-15fb3515298e
Faulting package full name:
Faulting package-relative application ID:
There are no performance issues between this client workstation and the NAS. NAS grinding or memory busting is also not present as I have never seen the CPU being over ~80% even when client backups are running overnight. I have detailed trends if any correlation to the client crash time are required.
Note: This workstation runs a lot of software including vmware workstation so I am ok if you tell me it is not supported. This crash is silent and does not affect my system stability which is most important!

I am having this issue with Windows 11 running Roon Core, cannot restore backups either, anyone find a fix for this yet?
The only way I can get this to work is if I uninstall, remove the old database and settings, and reinstall.
Any help would be appreciated. I have the logs handy, not sure how to update them however.
My RoonRemote is still cumbersomely frozen on Windows 11 as of July 16, 2022. I am constantly updating Windows and RoonRemote and it is always up to date (RoonVersion:1.8 build988).
None of my other software, such as games or browser, freezes, only RoonRemote. When it freezes, there is block noise on the display and only the RoonRemote screen crashes.
This phenomenon has been consistent since the introduction of Windows 11 until now.
When will Roon stop freezing in Windows 11?
Same here. I am very annoyed. It crashed 2 times in 15 minutes just now while browsing the app and playing music. Fix this or I want my money back. This is unusable when it keeps crashing.
Roon just crashed 2 times in 15 minutes just now while browsing the app and playing music. Fix this please, because this happens daily. The app is unusable when it keeps crashing.
It can not handle playing music and browsing the app at the same time. This crash also happens when you leave the app minimized for a longer time while playing music.
Roon crashes before the first song finishes playing, I've never previously experienced this issue. I'm able to skip to the next, previous song an pause though the rest of the interface is unresponsive. I also notice the screen font changes when it crashes. Accessing roon via my bluos streamer works flawlessly.
Sadly, its not just windows 11 that freezes and crashes your computer.
Still having issues. Unfortunately its gotten worse. My Roon has been crashing for the past 2-3 days, which it never did before. I am updated to the newest version.
It is also happening in different scenarios. I left it minimized over night, no music playing. I maximized it to play music today, and it crashed. In the beginning I only had issues when I was listening to music for a while and didnt touch anything - it would then lag when I went back to it and paused it or skipped a song.
I've had to basically stop using my Dell laptop and use my iPhone with Roon.
So, I'm trying a Windows 10 screen freeze workaround. Instead of minimizing the Roon screen, I have downsized it so I can keep it up and get to everything else. I just open other stuff on top of it. We'll see.
This Windows 10 "workaround" seems to be working. Instead of minimizing Roon on your Windows computer, downsize it in a window on your screen where it does not cover up your ICONS, etc. Then, open your other apps on top of it, just don't minimize Roon.
I'll continue to do it this way and post if I have another Roon lockup. Hopefully, Roon will have a fix for us soon.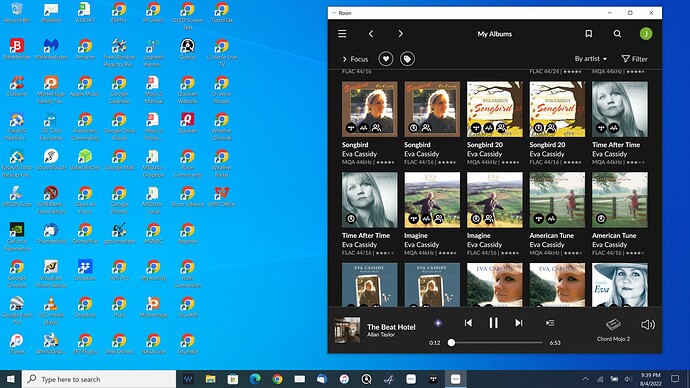 EDIT: This "workaround" has solved my problem with Roon locking up on my Windows 10 laptop. I highly recommend it if you're having this problem pending a solution from Roon.
This is not a reliable workaround. Roon can still have the same problem even if not minimized. It doesn't happen as often, but it will still freeze/hang/crash at times. And, realistically, for some of us, this isn't workable anyway. This is the only way to get Roon to be even remotely usable at this point for me, and I've been using it this way for months now. This should NOT BE MARKED as a workaround, it does not solve the problem.
It's a workaround that works for me on my Dell. It's not a solution to the problem. That's up to Roon to figure out.
No it doesnt solve the problem or create a reliable workaround. It has seemed to reduce the number of crashes but there are still enough to make the software considered to be unusable
I have had no freezes or crashes using this workaround. This solves the problem for me until Roon fixes it. I've had no lockups or crashes in 7 days since I started this. YMMV.
A few days ago, I did minimize Roon as a trial and it locked up within 15 or 20 minutes. So, Roon has not fixed this yet.