Since the last update, Roon cannot find my Node, since the upgrade. rebooted everything a number of times??
So we can better assist you, please provide a brief description of your current setup using this link as a guide.
Make sure to describe your network configuration/topology, including any networking hardware currently in use, so we can have a clear understanding of how your devices are communicating.
Are other devices showing okay?
Just reset the node, from scratch, set up to network and still roon fails to find the node under sources,
I can play music from BluOs app, every thing fine, Roon will play to the near field speaker on my mac mini, but does not find my media room, Node???
Please provide your setup details using the link that @dylan posted so that we can better understand the issue:

Also, please share a screenshot of your Roon Settings -> Audio tab.
Could you please share a screenshot of your Roon Settings -> Audio tab? It should look something like this: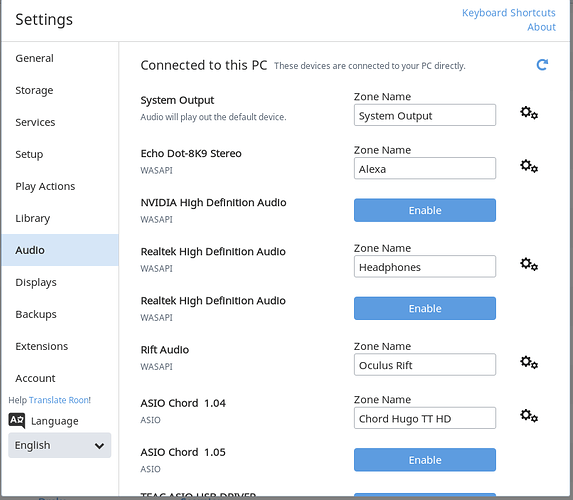 Have you confirmed that Roon and RAATServer are part of your OSX Firewall exceptions? You can use these instructions to check this aspect. If you have any additional firewall blocking software, I would make sure those exceptions are set as well.
Just turned off firewall, rebooted every thing same thing not recognizing my BluOs Node? On my second year of Roon and I love it but will not renew, and will cancel! Can I get a partial refund for my months not used??? Pissed off.
I want to help you resolve this issue here, but for us to better understand what's going on, can you please share the screenshot of your Roon Settings -> Audio tab?
Have there been any changes to your network? Did you install any new routers or change the Node or Core connection method? What is the IP address of the Core and what is the IP of the Node? Are they on the same subnet (as in they have the same IP address except for the last 3 digits)?
OK a few days gone by no response. Looks like your going to lose a customer. I will not renew my script. Can I get a partial refund for the months not used in my annual fee??
BluOs has signed off from their end, nothing wrong there, I am still listening to Tidal/Hi from the BluOs app. I others with similar issues with older products. Your a better company and product than that.
I sent you a message yesterday in this thread, did you see this?
I want to help you resolve this issue but you have to provide this info for me to help:
If you don't want further support and just want to cancel, I can put you in touch with our accounts team, but I suspect that your Core and Node are on different subnets or there was some kind of network change you made. Letting me know the above info would be very helpful.
Nothing has changed other than your update to Roon!! I posted a complaint on FB. There are others who have lost connection as well, looking for answers. My Node is a few years old, and you have Bricked it, please correct or you have lost a customer.
I've gone ahead and activated diagnostics mode for your account and what this action does it automatically upload a log set to our servers for analysis.
I am looking over the report and I see here that your Core IP is currently 10.0.1.2 while the last known IP for your Node was 192.168.2.13. These are two different subnets and Roon can't communicate over subnets.
I believe something is going on with your network configuration, please double check the IP address of the Node and your Core to ensure that they are on the same subnet. Perhaps you're accidentally connecting to your modem's WiFi network instead of the router network.
I rebooted everything, including login out of Tidal on all devices, then login back in, and after a week of F…en around I finally have Roon back. I guess I will re-subscribe to auto renewal? for now, Still this week of headaches and wasted time started immediately after your latest update.
Glad to hear the reboot helped! I suspect that this issue was due to something else and the reboot helped sort things out. Like I mentioned in my previous post, you may have been connected to the wrong WiFi network. In either case, glad to hear you're back up and running and if you have any further questions, just let us know!
Not just rebooting, I had to log off of Tidal on both the BluOs app and the Roon app. and then reboot, and it came back. Seems your App was getting hung up on login into Tidal. go figure, put that one down on your support list, "of Things to Try"
Thanks for your help, I almost gave up. Cheers.
This topic was automatically closed 36 hours after the last reply. New replies are no longer allowed.