Roon Core Machine
Windows 11
Intel Core i5-12600K
32GB
Networking Gear & Setup Details
Lan connected. Roon Core on same PC.
Connected Audio Devices
Dirac Live 3 with Dirac Audio Processor WASAPI Virtual Audio Device
MOTU Ultralite MK5 connected with USB
Number of Tracks in Library
Tidal
Description of Issue
After this issue with Sample Rates:
Roon does MQA Sample Rate conversion to Dirac WASAPI even when sample rate matches - Support - Roon Labs Community
I've configured Dirac Audio Processor to 96khz.
Also enabled event mode and the flag that says handle device with misreported capabilities (don't have access to the configuration screen anymore, see below).
Since then Roon is getting stuck on Enabling Dirac WASAPI: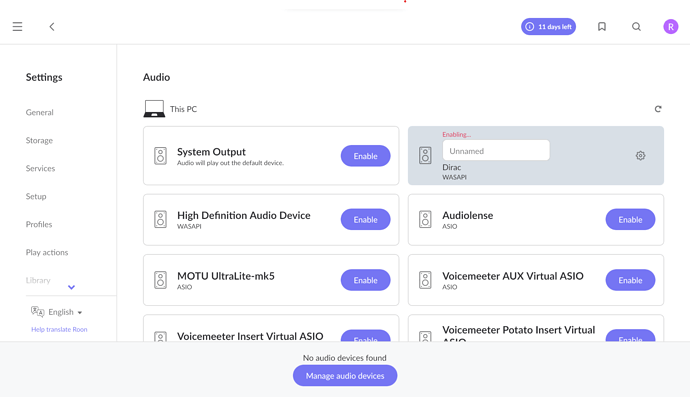 I tried reverting Dirac to 44.1khz (which worked earlier), but couldn't revert the device settings (event mode, handle…) on roon due to the stuck nature. Tried uninstalling roon (including removing settings) and reinstalling - same.
Suggestions?