Roon Core Machine
Generic PC, I9-9900K, 32GB, Windows 10
Networking Gear & Setup Details
NA
Connected Audio Devices
NA
Number of Tracks in Library
200K tracks
Description of Issue
This is the sixth of many bug reports I can offer. I am a lifetime subscriber with a large library of mostly commercial recordings loaded into iTunes. I am in the process of cleaning up the import: identifying unidentified albums, sewing together broken up albums and box sets, etc. It's a huge job, but it's made needlessly difficult by bugs in Roon that I would like to request you fix.
When merging pieces of albums, sometimes Roon gets disc numbers and track numbers mixed up. As you can see in the screenshot, here Roon is saying that there are duplicates in disc 1, but if you look at the file information for the supposed duplicate (track 4) the track belongs on disc 4, not disc 1. Roon seems to have misread the track number as the disc number. This happens pretty often and the workaround is to manually reassign the incorrectly identified track to the right disc.
Please let me know if you need more information to reproduce this.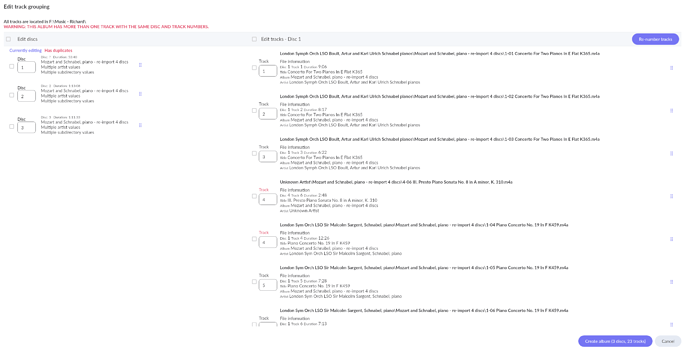 Thank you.