Roon Core Machine
Intel NUC 8i5BEK, i5 8259U (4x2.3GHz), 16GB DDR4
Networking Gear & Setup Details
BT Whole Home dual band mesh wi-fi with 4 discs
Roon Core machine connected by 5GHz wi-fi
Music stored on Synology DS213J, ethernet connected to wi-fi disc
File transfer speed between Roon core machine and Synology typically 20MB/sec
Broadband: 1GB duplex FTTP
Connected Audio Devices
6 x Bluesound Pulse Flex 2i
1 x Bluesound Node 2i
1 pair KEF LSX Speakers
Number of Tracks in Library
75,000 tracks
Description of Issue
I'm one week into a 3 month trial period and have some performance issues - a message saying that a track is taking a long time to load. Sometimes this leads to playback stopping. If I leave music playing for a few hours, it normally stops at some point. So I'm trying to use process of elimination to find the bottleneck and fix the problem.
I figure DSP is likely to take quite a lot of horse power so I'd like to completely switch off the DSP Engine as part of my testing. It seems that whatever I do I still get a bright blue star in my signal path - specifically, crossover and eq. This applies whether I play lossy MP3s or lossless FLACs.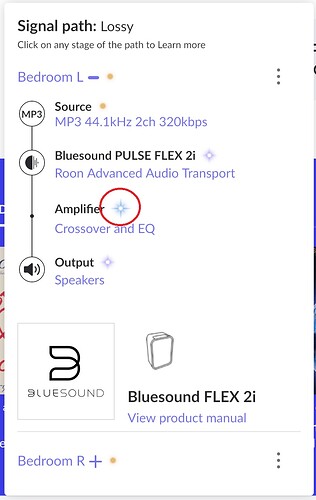 Is this just part of the Bluesound devices, or is Roon adding its own processing? And can it be switched off?
I also don't get the Processing speed indicator which would help to inform me whether DSP is part of my performance problem or not.


Any ideas?