Roon Build 884
MacBook Pro, OSX Monterey v12.1
External NTFS USB Harddrive
---
For months I've been happy as a clam listing to music on an external NTFS USB hard drive from Roon on a MacBook Pro. After restarting the MacBook, Roon no longer sees the USB disk and I'm unable to re-add the disk. It just does not appear to Roon any longer.
Yes, I can access the music on this same USB drive through Finder and play music from it with iTunes.
Appreciate any ideas!

Roon no longer sees "NTFS Master Music Lib" and Cannot be manually reattached.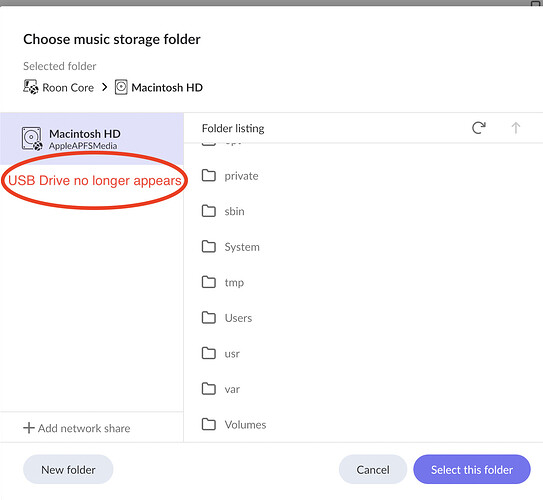 Trying an ExFAT formatted USB thumb drive does work. Wondering why the NTFS USB Disk that has works for weeks is now unrecognized by Roon yet seen by all other Mac software tested on the same computer can access this disk?