Roon Version, OS , Build
Mac Core v1.8 ? (latest from your website), Mac OSX 10.13.6, build: Tuesday, March 1, 2011 at 2:02 PM
Network Details (Including networking gear model/manufacturer and if on WiFi/Ethernet)
Peplink SOHO MK3, wired ethernet, latest firmware 8.1.1 build 4994
Audio Devices (Specify what device you're using and its connection type - USB/HDMI/etc.)
DAC: Cambridge Audio CXN v2 with wired ethernet directly to router. Latest Firmware on CXN: v018-a-078+a
Description Of Issue
Roon is not displaying the proper artwork from the digital files. In some cases I see it is reading the artwork and in others Roon is completely putting the wrong artwork and from the wrong album. Aurdirvana 3.5 ,Meta 1.9 and Songkong 1.7 all show the artwork and metadata properly, but Roon is messing it up and pulling stuff from thin air getting the artwork wrong.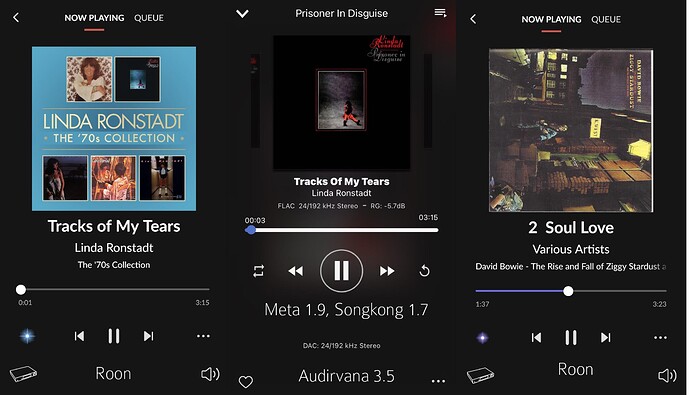 This image shows how Roon is messing up. In the second example, not only is Roon not reading the Medata from the file, but classifies this David Bowie song as Various artists, so I can't find it under artist David Bowie. Again, all fine in Audirvana, Meta and Songkong. Roon fails to read the artwork for this David Bowie album, misses the proper artwork called Folder.jpg in the root of the folder, and then displays MWC Front.jpg from the Artwork folder inside this album's folder. Totally wrong Roon.
A hint about this issue. Roon has serious issues reading Metadata and Artwork from DSD files. Roon fails to detect artwork and metadata from most Philips format DSD64 .dff files. Audirvana, Meta and Songkong are NOT having these issues reading artwork and Metadata from DSD files.
I have many more cases I could report, but this encapsulates the Roon core problem well.
… and this is only my 4th day using Roon trial.

p.s. Audirvana is using UAC2 audio 2 to feed the CXN v2, but I doubt that matters here.