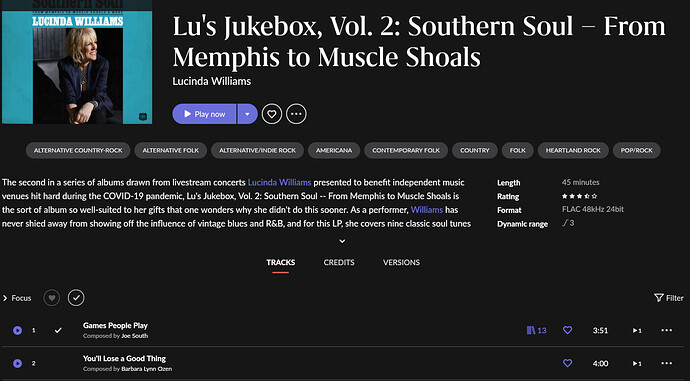 Album identified, roon's own metadata only. Track 2 composer … click through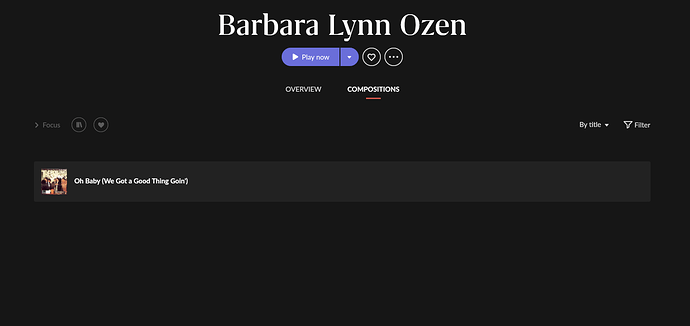 Composition in first image not linked.
Hey @evand,
It looks like the composition is linking out to a lesser used pseudonym for the legendary Houston based guitarist Barbara Lynn. You can edit the composer credits for that track so that it uses her more common name.
Here's how you do it:
Select the track by long-clicking or right clicking.
Click the elipsis button at the far right hand side of the track.
Click edit
Click edit track
Click edit credits
Click + Add credit
Deselect Barbara Lynn Ozen
Search and select Barbara Lynn
Click Save
@jamie, thanks, buy how is a local database edit the answer - surely the right answer for everyone is for roon to make the connection in its master data back end so that the connection is pervasive and correctly made in all such instances across your entire customer base? Edits like this should never live alone.
Also, by setting these threads as resolved and to auto close is to incorrectly presume the issue is resolved and curtail feedback like that in this reply, which is intended to improve the product, for everyone.
Hey @evand,
I'd be happy to explain my reasoning. A local database edit is the right answer in this case if you'd like a quick solution. That's why I suggested an edit and marked the thread resolved.
We appreciate the heads up here and absolutely, wholeheartedly, share your feeling that system wide fixes are preferable. We encourage these reports, and don't want to do anything to curtail them. That's why I've asked you to please utilize the pre-filled metadata report form - so that your issue reports will be most helpful. It's there so we have a uniform template that allows us to repurpose report issues of similar types when working on larger metadata fixes in the future.
We don't have the ability to jump into the metadata and make prescriptive changes or modifications to metadata. We aren't data creators, the information belongs to our metadata providers and we have to coordinate with them on individual corrections. We can't make promises, or gauge how long they might take to make a correction, or say with certainty if one will be made at all.
Because of this, making a manual edit to the album in your Roon library is often the quickest, most effective, way to address small metadata annoyances - such as Barbara Lynn appearing by her full name Barbara Lynn Ozen.
I hope this helps to clarify the action I took on your report and explain the logic behind it with more detail.