Core Machine (Operating system/System info/Roon build number)
Windows 10/Roon Version 1.8/Build 764
Network Details (Including networking gear model/manufacturer and if on WiFi/Ethernet)
USB Direct to Amp
Audio Devices (Specify what device you're using and its connection type - USB/HDMI/etc.)
Peachtree Audio nova150 amplifier
Description Of Issue
Hello all,
I have an issue I just noticed yesterday, and I'm not sure if it is a Roon issue or something to do with the driver for my amp. I noticed while playing some 24/192 files yesterday that the sample rate was converting from 192 to 96kHz. The DAC in my nova150 is supposed to sample up to 384 kHz. I noticed this when I saw the signal path indicator was a small green circle rather than the bright purple star. This is also happening with the DSD filed I have. I'm not sure if this has always been the case, my library is mostly at 48 or 96kHz.
I reinstalled the driver for the nova150. Looking at the nova150 control panel on my machine, it says that it is sampling at 96 for any files 96 and above. I went to the audio settings, and noticed that in the max sample rate (PCM) dropdown, i do not have an option for 192, only 48 or 96. My question is, does that mean Roon thinks the DAC is only capable of 96kHz or below? If that is the case, is this an issue with the driver, or Roon?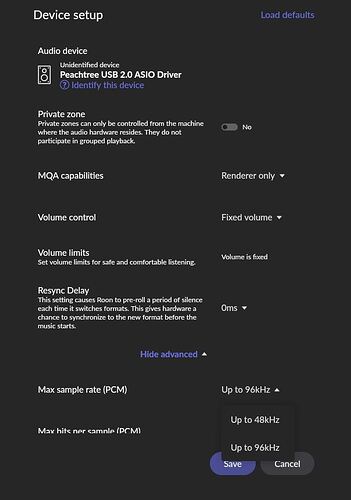 Any help is greatly appreciated.
Brian