exactly my issue too. would love to disable this feature.
Exact same issue here. I also have lock screen volume control disabled but am having the same problem with my iPhone volume being set to 100% each time after opening the Roon app.
Though I had only been using Roon for about a month before this problem occurred, I find that I am really missing it. BluOS is perfectly functional, but Roon is so much better (when it behaves).
Any word on when we might expect a fix for this issue?
This needs to be fixed ASAP - it is ruining Roon. I've been a subscriber for several years and this is the first time I've felt compelled to respond on the forums - it is completely unacceptable behavior. I'm going to be forced to stop using the platform if this isn't corrected in the next few days. I am done. I use 2 primary endpoints. Downstairs volume is fixed so it zeros out my phones volume, and upstairs it's almost always between max or 50% so my volume shoots up. I've deleted and reinstalled on my phone (13 pro max) twice, I've rebooted several times. I've checked the option in setup off and on and off. I've reduced all of Roon's permissions on my phone - it is just flatly unacceptable behavior period. And no - my Denon and HEOS apps use the volume button, as does my TV and Apples own Apple TV remote, and they don't exhibit this.
To add my request.
Please make a configuration setting which let's me completely disconnect the iOS volume level and volume controls from the roon app.
I find the new connection between the iOS volume and the roon app very annoying and also disturbing.
I do not want that roon changes my iOS volume level.
And I certainly do want iOS to change my roon volume level.
At the least I should be able to configure that the iOS volume interaction is completely disabled for all other zones than the local iOS zone.
Thank you.
I'm adding observed behaviour in hopes of getting this fixed.
After being blasted by full volume at 100, this unexpected iPad behaviour which is the result of enabling lock-screen controls, I decide to turn this feature off. But volume control is now high jacked. I have been able to reproduce this behaviour:
Turned off lock-screen controls, forced quit the app, and restarted the core.
Open the app and confirm the iPad volume is at 7.
Switch zones to ChromeCast, which is set to 100 for powered speakers.
Play some music for about minute.
Stop music.
Return to iPad zone and confirm volume has been changed to 100.
I have taken a video of this and have been able to repeat it multiple times.
Thanks,
Jason
This is kinda annoying?


Every time i switch to Roon on my iPad Pro 12.9" 2020 the volume on the iPad get set to whatever volume is set to the current endpoint. (All of my endpoints but one employ fixed volume, so 0 is the common result)
I have NEVER enabled "lockscreen controls" on this Core, and it doesnt seem to matter if the iPad is even listed as an available endpoint. (It was never chosen as output in this situation)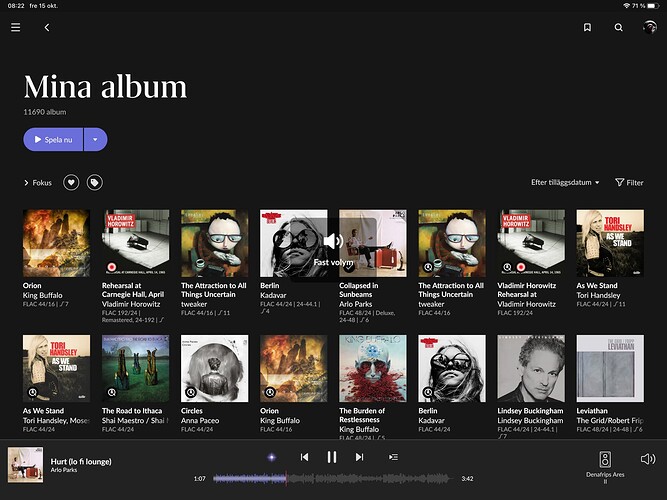 So volume is muted on my iPad every time i have used Roon, which is causing me to miss conversation, calls and notifications. This is not an Apple issue, as no other of my music apps have the same annoying behaviour…
Just weighing in to say I thought I was going nuts imagining this… misery loves company I guess.
Please fix this Roon - it's the biggest bug I can ever remember in your software. Hopefully it's a priority.
My iPad and iPhone go to full volume setting in iOS overall control any time Roon app is opened. Please fix this asap, it's quite upsetting to my wife and I find it a nuisance at best. Thanks!
Add me to the list of users rapidly heading towards becoming "clinically deaf."

The solution is to set the volume via Apple Home app. It's not perfect but working.
For those that use Apple Home it may work…


My vote for investigation.
100% volume for Roon bridge (RPi) = 100% for iPad (iOS 15.0.2)
Fixed volume for Roon bridge mutes iPad.
Everytime I open or switch to Roon Remote.
This disables the Roon control but still makes the iOS/iPadOS system volume sync to whatever the Roon zone's volume is set to when you access it, in my case either max or mute.
Great, thanks for the feedback, Dylan!
Hi Dylan,
Much as I appreciate the sporadic responses to this glitch. To show good faith to every iOS user encountering this problem and the month it has already taken, to as yet fail to reach any remedy. Perhaps an offer of rolling back the last update should be made available to those who prefer not to have their system blown to bits or to miss alarms, notification sounds etc.
This matter does not seem to have grasped the team as to its significance and been made your number one priority!
I really think roon have dropped the ball on this and by at least rolling back, we can continue to use with satisfaction our iOS devices until you're able to offer an update without this glaring issue?
I request this with respect but I'm sure many of the team have the same problem!
@dylan there are other ways to implement this… Check out how the TIDAL app works, for example.
Yes, I understand that if you are going to enable the iOS device's hardware volume controls to adjust the volume of your active endpoint while using the Roon app, that the hardware buttons and the volume control in the app need to be synced. That is how iOS works, and all apps that enable this functionality will work this way while in the app.
However, there are different ways that an app can deal with the iOS volume when the app is closed. For example, in the TIDAL app, I can stream to any of my Sonos endpoints directly. When I open the TIDAL app, it will sync the iOS volume control to the volume of the Sonos endpoint that is playing, i.e. the volume slider and the device buttons are synced while TIDAL is open. HOWEVER, when I close the TIDAL app, Sonos endpoint will continue to play at the same volume, but the iOS volume control will return to whatever it was set to before I opened the TIDAL app. For example, I usually keep the volume on my iPhone muted. If I open TIDAL, the iOS volume will immediacy change to whatever the active Sonos endpoint volume is, and it will either change or be changed as I adjust the volume in the TIDAL app. But when I close the app, the iOS volume will then go back to being muted (or whatever it was before I opened TIDAL).
I suggest that you change the Roon app to behave the same way that the TIDAL app does, and that would address the concerns that most people have here. In addition, if there is a way to enable/disable the hardware volume control entirely (like you can with the Lock Screen volume control), then that should be implemented to avoid the whole issue.
Thanks!
Any news from Roon on this? I would have expected this to be very high priority… from a user experience perspective this is not good.
I would like to agree with that and reinforce it. Currently, I can't control Roon with either iOS or iPadOS devices without having the volume mess.
Could we possibly get an update on this? Thank you very much.