Core Machine (Operating system/System info/Roon build number)
Mac mini 2014
2.6 GHz Dual-Core Intel Core i5
8 GB 1600 MHz DDR3
MacOS 10.5.7
Roon 1.8 (Build 764)
Network Details (Including networking gear model/manufacturer and if on WiFi/Ethernet)
Netgear R6400v2 router. Core connected via wired, MacBook Pro client on WiFi (5G)
Audio Devices (Specify what device you're using and its connection type - USB/HDMI/etc.)
N/A
Description Of Issue
From time to time, the Roon client on my MacBook Pro loses connection to the Core and is stuck with: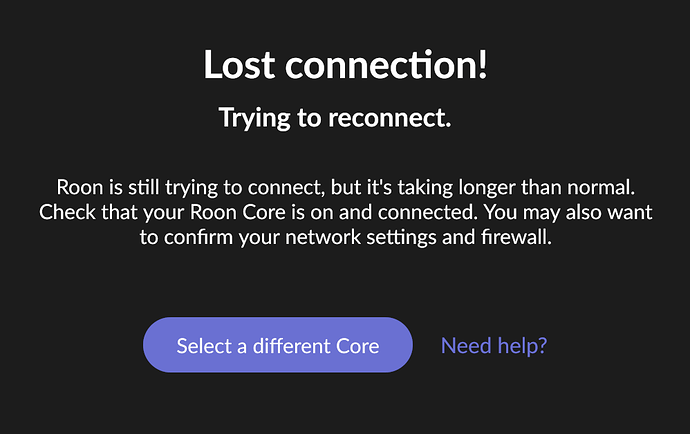 While its stuck like this, I can get the "display" feature to work in a browser on the MacBook Pro, so there is no apparent networking issue between the MacBook and Mac mini. Also, I'm not having any issues with the client on my iPhone or iPad. It says its "trying to reconnect", but apparently its not trying hard enough

.
When I click on "select a different core", it thinks the server is still initializing, the Connect button is disabled, even though its fully functional (playing music, serving displays, controllable from my iPhone/iPad):

The only way to get around this is to restart the Roon client. I never had this problem with 1.7.