Core Machine (Operating system/System info/Roon build number)
QNAP TVS-872XT, Firmware 4.4.2.1310, CPU i5-8400T, RAM 16 GB
Roon version 1.7 (build 537)
Roon Remote on iMac 5K version 1.7 (build 537)
Network Details (Including networking gear model/manufacturer and if on WiFi/Ethernet)
Complete Ubiquiti UniFi network, all items of concern here are wired.
Audio Devices (Specify what device you're using and its connection type - USB/HDMI/etc.)
Sonore Signature Rendu SE optical
Description Of Issue
Frequently Roon is very slow when browsing from my iMac, or iPhone & iPad. When I check the QNAP to see what's going on the CPU will be anywhere from 20%-50% utilized and Roon will be consuming 6+ GB of RAM.
If I restart Roon on the QNAP, Roon will take up 1% of the CPU after settling down and roughly 5 GB of RAM. The app will work very well, for a while.
Question: What's going on to slow down Roon so much, that requires a restart of the app, that then fixes everything for a day or so?
Here's an image before restarting the app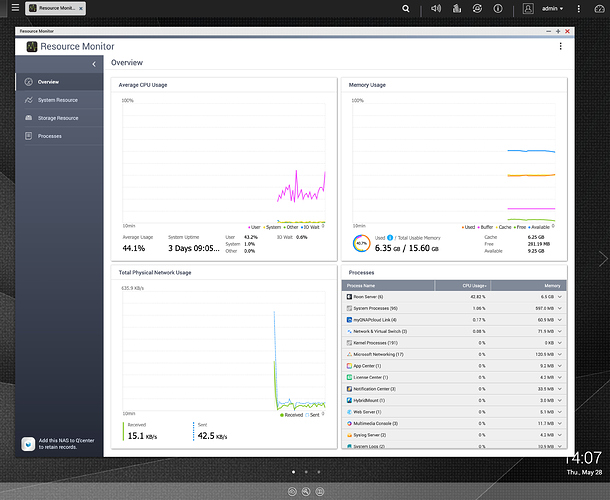 Here's an image after restarting the app and letting it settle down