Hello @noris ,
thx for coming back to my issue, I really really hope that the team can find the reason.
I succeeded in zipping the RoonServer-directory.
I failed to upload the RoonServer.zip file. It has a size of appr. 14 GByte, maybe that is the reason. I tried it several times, with firefox and chrome, even after a fresh restart of my win10 laptop (with 16 GB of main memory) and only chrome running - alsways at 80 - 85% the upload crashes: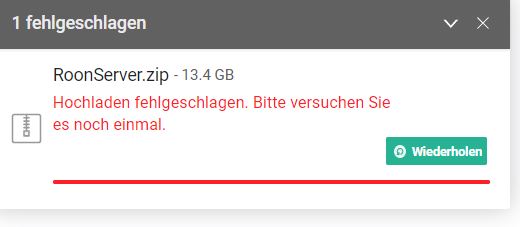 My Dropbox is limited to 7.5 GByte.
Does Roon provide any other possibility to transfer such a large file with 14 GByte?
So what I have done (upload has successfully finished): I did split the file into 14 smaller pieces with 7z, you should be able to join the files together again with 7z … could you join the files?
Cheers
Frank