Roon on Win 11 clearly sounds better than Win 10 in my setup.
Season's Joke!
Thank you - you make my day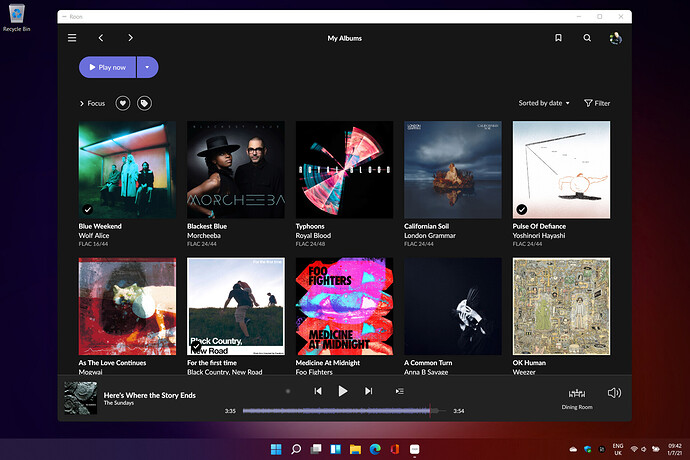 Should be noted that this is just the Roon Control app and not a Roon Core machine. I havent tried the Core on Win 11 yet.
Thank god for that

I appreciate the wonderful job of the mods moving this into a windows 11 thread, but it took it out of support which was what I needed.
Not so sure you will get much support being on an unreleased OS. Certainly not in depth.
Support is a two way street where the support team should care to learn as much about any issue as possible. The fact roon was working fine with windows 11 (as with many other users) until a ROON update should indicate to the support team that a change conflicts with windows 11, a SOON TO BE supported OS. I even included my roon log, and debug code, which is more than most users would provide - in attempts to give the roon team a viewport of understanding as to why this issue occurred on a release candidate of windows. Of course this would only be should they care about fixing problems before they occur en masse. I don't see your logic in gate keeping a support request simply because of the OS. If we don't collaborate on these types of topics, progress can't happen.
I wasn't gatekeeping, as you put it, just giving my opinion after being on the forum for a long time and seeing how support pans out.
for what it's worth I have been on the dev branch and just switched over to the beta, and both the remote app and the server have been working fine on Windows 11 (apart from the annoying bug where Roon will try to use an already in use port on first boot that still hasn't been fixed, but that is unrelated)
I had to remove roon entirely, including settings and databases, run CCleaner to clean tmp and registry, and then I was able to re-install roon and it launches and plays music again - but i've lost my playlists and had to reload my library.
Something about the latest roon update corrupted my database, it might have something to do with Windows 11 and/or OpenGL.
in any case, i think roon should also consider keeping playlist information stored on the roon server in XML format and have those handshake with local versions - because having local databases for that stuff only i have run into several problems switching between primary computers.
I'll tag @support for you, however, running on an unsupported beta OS version is at the user's risk.
Moving reports about unsupported setups to tinkering is standard practice but that does not mean Roon will ignore it. However, it will have a lower priority to those from supported environments … hence it may be a while before they comment.
See, there is an issue that i see in your logic. Just because I am running an unsupported OS does not mean that is the cause of my issue. There are other threads of the same issue being reported by windows 10 users. In my eyes, as a former quality manager and QA/QC lead, having data from all reports - both supported and unsupported OS regarded, would be valuable in debugging the issue as a whole.
I know you are probably used to snobby people expecting support to be a fix-everything button, but what I view it as is a collaborative environment wherein the consumer and producer can work together towards better understanding and improving the product both of them work hard to ensure the other enjoys.
I was able to fix my own problem with Roon, because of my background in troubleshooting and knowledge of the platform internals to a novel degree. I can only hope that posting my debugs, logs, and results of fixing my own issue would help the support department understand the issue better.
If my thread about all that is moved to tinkering , it gets buried. It's still valuable information, that's just my two cents.
people make many stupid decisions in life such as
tugging on Superman's cape
spitting into the wind
trying to pull the mask off of the Lone Ranger
messing around with Jim
upgrading to a beta version of Windows
Of course you are having problems, it is a beta version so who cares?
Frankly, reporting to the masses that any software has an issue with a beta version of an operating system is of interest only to operating system developers and the others who decided to "upgrade" to it. It is a complete waste of time for any sensible person who waits until the bugs are worked out…
Who cares? I do, anyone else running windows 11, and the people who are running into the same problem with windows 10, a supported OS.
How do you think bugs & issues get sorted out? There is some magical member of microsoft who uses roon and will integrate a fix into the final version of windows 11? It takes users like me to test and report issues for all parties, microsoft and roon, to understand and fix issues.
Hi all, we'll make sure to test with Windows 11 before it's officially released to the public, but right now it's just too early.
Problems with Roon on beta versions of operating systems are typically resolved before the public release without us changing a thing (we learned this lesson the hard way!). So until it's out of public beta, it's not officially supported by Roon.
Roon and Windows 11.
I have Windows 11 on three different machines two of them are end points and one is the Roon Server Core. It operates as before without issue. One of the end points is hardwired in my network and the other is my laptop which is wireless. Just thought I would throw this out there.
I have a Windows 11 PC and Roon Server Core works like a charm.
marco
| Edition | Windows 11 Enterprise |
| --- | --- |
| Version | 21H2 |
| Installed on | ‎08-‎Sep-‎21 |
| OS build | 22000.176 |
| Experience | Windows Feature Experience Pack 1000.22000.176.0 |