Roon Core Machine
ROCK on Intel NUC
Intel i7, RoonOS on local M2 drive
16GB RAM
Been stable for years, but will soon be replaced with a current generation NUC.
Networking Gear & Setup Details
Wired network between Roon NUC, QNAP NAS and KEF LS60 speakers connected to the same English Electric network switch. That switch is wired to the main router to the rest of the house and internet via fiber. All of the above are on cable lengths less than 1 meter. Desktop Win11 used to manage the library connected to the main router by fiber. Very stable configuration.
Connected Audio Devices
KEF LS60 wired to the same network switch as Roon NUC and QNAP NAS
Number of Tracks in Library
Some 150,000 music files on the local NAS and backed up to a second office NAS and also to a a large external WD USB drive connected to the primary computer.
Description of Issue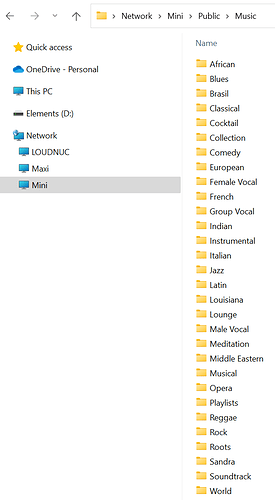 Roon no longer recognises my playlists.
The watched music directory on the local NAS is \Music is organised into folders by my 'genres' - \Music\Male Vocal, \Music\Jazz etc.
The music directory also contains a directory \Music\Playlists where I store the playlists I create on my computer using J River 30.
Playlists is just another folder at the same level as the music folders by genre.
In the past I have successfully used the playlist path as:
...\Jazz\Terry Herman Trio\Blue Aranjuez\Terry Herman Trio - Blue Aranjuez - 01.01 - Blue Aranjuez.flac
.\ goes back a directory level from the Playlists sub-directory
…\finds the Jazz sub-directory
Is this correct for Roon?
If so, it is not working and I cannot find a definitive statement of what works other than using full directory paths.
Thanks for your kind assistance.