@ged_hickman1, I suppose you have seen Robert Johnson play live! Im jealous

Unfortunately he didn't make it to the UK. However, given the wicked life I have led and his Faustian pact for his skills I may see him in future.
Your old man has excellent taste!
I did today, briefly. I'm by no means a connoisseur, but I tend to like baroque to concentrate on work. I started with Handel Concerti Grossi. Didn't like the choices Radio came up with, see below. I don't have the vocabulary to explain why, just wasn't the sound I was looking for. I'll have to experiment more.
One thing that struck me as a missed opportunity, is that when you skip a track that's part of a movement and indicate you didn't like it, shouldn't the next skip in the same movement take you to a new Radio suggestion altogether? I found myself having to skip through all the parts in a movement.

My experience also. I tried a few more times with different Classical seeds. Given up now. The only pattern I found was roon stayed Classical but there was no other pattern in terms of era, style, instrumentation etc.
It was mentioned on another thread that other "minority" tastes like Rap are also having issues. Looks like we can add Baroque and American Art Song to that list. No doubt there is a much more involved explanation but it looks like the roon AI needs a critical mass of listeners in sub-genres before it can build a reliable pool of tracks on which it can draw.
I started Radio'ing on 5AM by David Gilmour.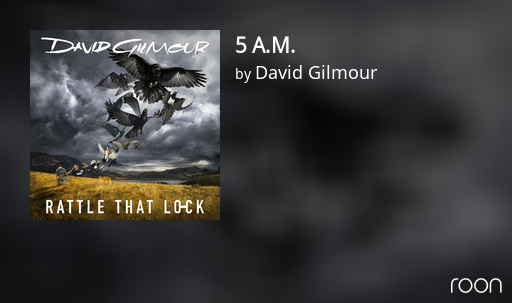 And next up I got 5.15AM by Mark Knopfler.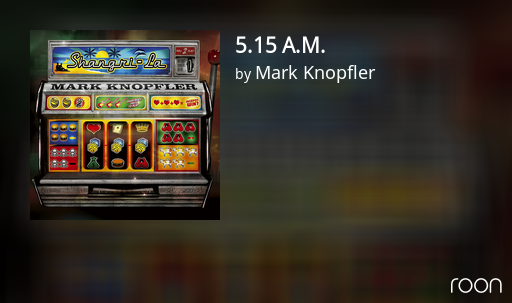 Ok, Roon Radio's AI is already self aware and is now taking the p!$$ out of me… after my criticism.

Great track though.
What an amazing step forward. I've been waiting for this!
To confirm, there's no ability to enter in an Artist's name, "Ella Fitzgerald", and have radio focus around that? I have to select an Ella Fitzgerald track or album and turn radio on.
Well,yes, you have select something.
But if you are in the Artist browser, you can enter ella f, click on Ella Fitzgerald, and hit Radio.
Played a bit more with Roon radio during the day.
Overall quite happy with the results.
Started a seed with latest Sharon Van Etten' album and overall I got a strike of good matching songs. The only glitch was when I press a thumb down on a song I didn't like and I was then greeted with the exact same song I listened 7 song previously.
Now listening to a seed started with The Decemberists' "16 American Wives" and apart a couple of thumbs down is still going strong.
One thing I would like is the possibility to thumbs up/down a song that has already finished. Sometimes I find myself scrambling for the ipad just when the song is finishing.
Also please add thumb option on the playing now song on iphone
Thanks
M
Yes you can. You have to select an artist, then click the blue drop down button with an arrow below the artist's name.
Seem to be having a problem with ROON Radio. WhenI first updated it was working fine but now it seems to only play from my library (Local NAS and TIDAL). I made sure it was not engaged ('yes') in the 3 dot menu. And the blue 'yes' button doesn't appear at the base of the ROON Radio side bar. Anyone have any thoughts?
Thank you - hadn't seen that. Nice that it isn't just me.
I haven't read this entire thread but was wondering if there was a way to play the radio and and to exclude the songs in my library which would give me the chance to discover new music.
The new facility has introduced me to some interesting new finds!
However I don't quite understand what it "seeds" its selections from. Just the last track it heard before Radio kicked in, or the whole past queue? The message on the user interface suggests the latter ("Roon Radio will automatically pick music based on your queue") but I am not convinced it looks at more than the last track played. Would be helpful to know what's behind the scenes.
Been listening to the Roon Radio exclusively since 1.6 release. The journey it took on me last evening was magical. Thank You Roon Team.
I agree with this feedback. The text in the box is misleading, Roon Radio goes on the last song played from the Queue. I think they should change the wording there.