Core Machine (Operating system/System info/Roon build number)
Windows 10 desktop PC.
Network Details (Including networking gear model/manufacturer and if on WiFi/Ethernet)
Audio Devices (Specify what device you're using and its connection type - USB/HDMI/etc.)
Description Of Issue
For the past few weeks I've had an issue when selecting Roon Radio, but work has stopped me from caring too much as I've had barely any time to use Roon anyway!
Whenever I select Roon Radio, after a second or two this message appears and the music will stop: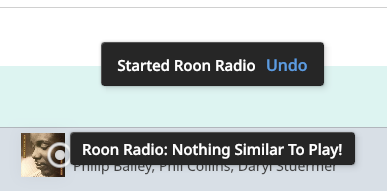 If I then hit the skip button to move to the next track this appears:

It was fine a few weeks back and the main feature which drew me to using Roon was this. I have tried completely reinstalling the software to no avail.
Please help.