Same problem here. It stopped working about 40 minutes ago. I've tried logging out and in Tidal, didn't help.
At first, i had no connection to either Tidal or Qobuz. I was able to sign into each app independently. I signed out(and back in) of both in Roon, and now they are there, but still not Roon Radio:(
Yes same here. Tidal content works but radio portion not. Limited to only local
I've got the same issue, reinstalled my ROONSERVER on Ubuntu 20.04. re connected tidal and Qobuz. Still no result.
I've noticed that the error also occurs when I click the play button when I'm on the artist page.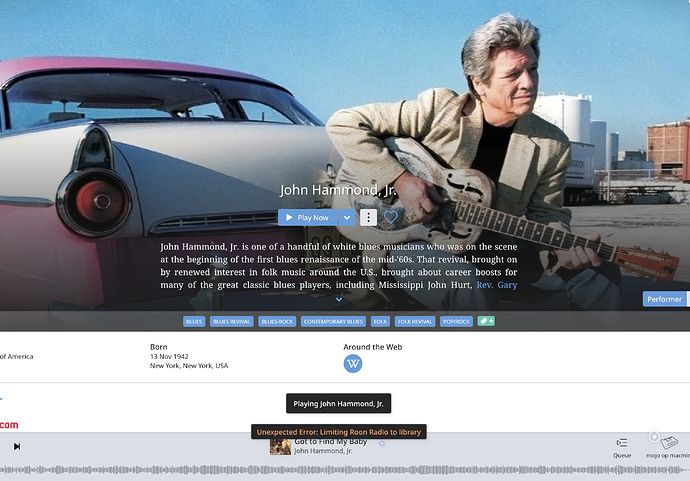 Getting Roon Radio Unexpected Error Limiting Roon Radio to Library.Happening often lately
Hi everyone,
We are currently experiencing an outage that is affecting Roon Radio. Our engineering team is working on getting this up and running as soon as possible. You have our apologies for the trouble here!
Core Machine (Operating system/System info/Roon build number)
Asus NUC Celeron 2957U, Windows 10 Home, Roon 1.7 build 667.
Network Details (Including networking gear model/manufacturer and if on WiFi/Ethernet)
All on home Ethernet.
Audio Devices (Specify what device you're using and its connection type - USB/HDMI/etc.)
Various squeezebox Touch and Sotm SMS-200.
Description Of Issue
I just swapped running the core as just Roon server on a thin client running Windows 7 to the Asus NUC Windows 10. I backed up the entire Roon database and then recovered it into the new Roon installation on the NUC. All fine and able to play tunes from both the NAS library and Tidal.
However, Roon radio won't play anything.
Please help.
I've been getting the same this morning (I use Qobuz) but wonder if the Alphabet Inc. outage is connected:-

I'm assuming that this must have been resolved, because Roon Radio appears to be working for me (with the exception of my long standing intermittent metadata (artwork) issue).
Not resolved for me. Still says "no similar tracks found"
Any ETA on when roon radio will start to work again?
Same issue here, please get this fixed soon!
Still working for me - I'm listening via Roon Radio at the moment.
I'm based in the UK. Is this a regional issue?
Wasnt working 14 hours ago, Working this morning (in AUS)! Very happy…
Looks like the East coast of the US is still heavily impacted by the outage.
Does Roon have a service status page where we can see if services are down or working properly?
Hi everyone,
Thanks for your patience as our engineering team worked to resolve the outage. Things should be up and running as normal now. You have our apologies for the inconvenience!