Roon Optimized Core Kit (NUC7i7BNH) is being fed by two Western Digital Purple 6TB Surveillance Hard Disk Drives connected via USB. The Hard Disk Drives are sitting in an Inateck USB 3.0 to SATA Dual-Bay USB 3.0 Hard Drive Docking Station. I'm running Roon Optimized Core Kit Version 1.7 (build 511) stable. I am running Roon (Version 1.7 - Build 511 Stable 64 bit) on a Windows 10 PC. Both the ROCK and my PC are connected to a Netgear ProSafe Gigabit Switch.
I have been running this set up for more than a year with no problems. Lately, the ROCK is losing connection with both hard drives. I power off the ROCK and when I turn it back on, it starts reading the tracks off the two hard drives. It starts to build my library and during this time I can play tracks from the library. However at some point, the hard drives can no longer be seen by Roon and the library goes away. This is what I see.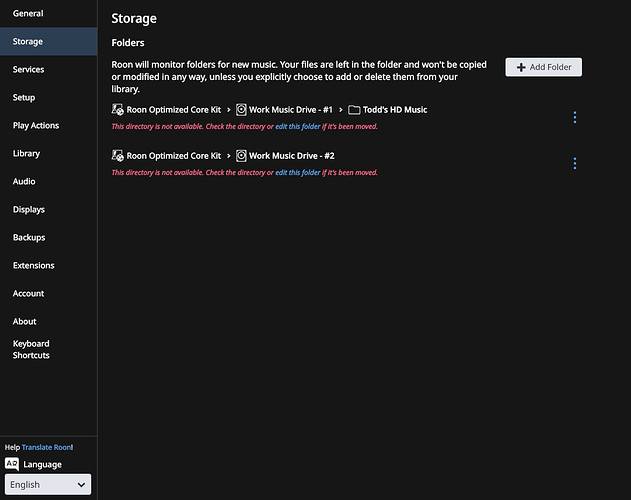 The first hard drive has 88,994 music files and takes up 5.21TB. The second hard drive has 16,909 files and takes up 965GB.
I'm guessing that as I've continued to add music over the last year that I've reached a tipping point where the NUC can't handle that many files. But, I believe that the spec for the NUC I have indicated it could handle well over 100K+ files. I'm currently at 105,903 files.
Is there something I can change/do to keep the hard drives from disconnecting or is the only solution to not have as many music files?