Core Machine (Operating system/System info/Roon build number)
System Status
Serial
#F44D306C331E
Operating System
Version 1.0 (build 183) stable
Version 1.7 (build 521) stable
99% of 227 GB available.
Network Details (Including networking gear model/manufacturer and if on WiFi/Ethernet)
Over Ethernet - T-Plink switcher
Audio Devices (Specify what device you're using and its connection type - USB/HDMI/etc.)
Bluesound Powernode 2i Ethernet
Description Of Issue
As per picture tyre below. Playlist was created in roon. Multiple tracks unavailable.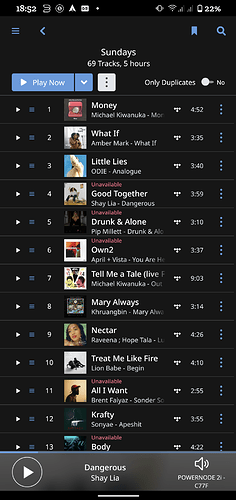 @support Any and all help.appreciated. Thanks