Core Machine (Operating system/System info/Roon build number)
Windows 10, core i7 4770, 16GB ram
Roon version 1.7 build 571
Network Details (Including networking gear model/manufacturer and if on WiFi/Ethernet)
Netgear ORBI RBRv2, the core is connected via ethernet to a roon bridge device (Allo Digione)
Audio Devices (Specify what device you're using and its connection type - USB/HDMI/etc.)
I use a Khadas Tone Board connected directly to the core via USB
and a roon bridge endpoint running diet-pi
Description Of Issue
Search gives me weird results.
For instance, I search for the term "Rocket Boy" (I have a song in my library with that exact title).
The first search result is a composition that's not even in my library: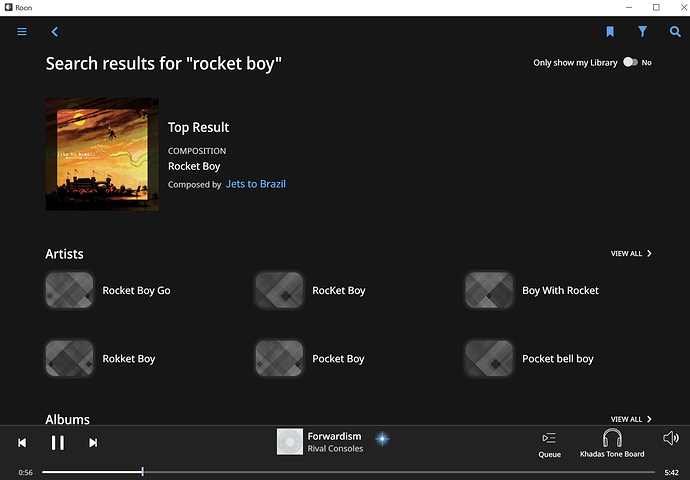 However the track does appear first in the track list section of the search results:


This is a recurring problem for me. It's as if Roon always prefers to show me non library results for my queries. I get it if it's a general search query but in this case I have an exact match with a track in my library.
Is this the intended behavior?