Core Machine
Core 1.8 (build 790)
Debian 10 (running in a bhyve VM on a FreeBSD 12.2 host)
1 Intel Atom CPU C2550 @ 2.40GHz
2 GB RAM/2 GB swap
The VM is hosted on a SSD
Network Details
Wired Gigabit Ethernet
HP 1810-8G v2 managed switch
MikroTik hAP ac router
250/50 Mbps fibre
Audio Devices
Raspberry Pi 4B endpoint, running RoPieee (3.107 stable) and connected over wired Ethernet.
The endpoint is connected to a RME ADI-2 Pro FS R BE ADC/DAC over USB.
Description of Issue
Roon Server crashes and restarts when playing high resolution content from Qobuz, typically 10-20 seconds into a new song. Playing CD quality material does not seem to cause any crashes, nor does playing any content from my local library or Tidal (in any bitrate/resolution). Sometimes I can play several tracks from an album before a crash, sometimes the core will reboot after a track or two.
I cannot find any indication of any problems in RoonServer_log.txt or any of the system logs (e.g. out of memory errors, stack traces etc.) at the time of the crashes.
Attached is a screenshot of my signal path.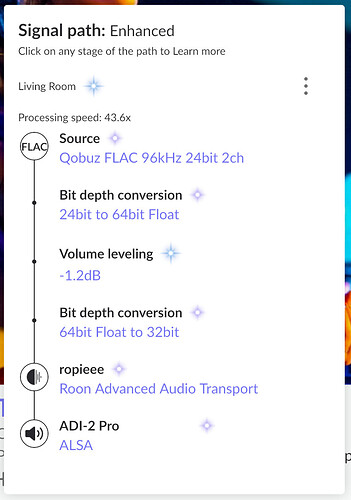 The symptoms seem identical to these (1, 2) previously reported, unresolved issues.
As a workaround, I've capped the quality at 44/16 from the Qobuz service settings, and this seems to have stopped the crashing.
Please let me know if you need any additional information to further debug the issue. Thanks!