Core Machine (Operating system/System info/Roon build number)
Antipodes DX2 (with local music storage) running latest version of Antipodes software. Roon Server version: 1.7 (build 528).
Network Details (Including networking gear model/manufacturer and if on WiFi/Ethernet)
Netgear ProSAFE GS108 switch connects Antipodes DX2, QNAP NAS (backup only), and Ethernet/wifi internet router. Wifi used for iOS controller.
Audio Devices (Specify what device you're using and its connection type - USB/HDMI/etc.)
AMR DP777-SE connected via AES3 to Antipodes DX2 running Roon Core and Roon Ready.
Description Of Issue
Roon Server attempts to start and does not complete the start-up sequence. This occurs on a continuous loop. This sequence shows in the Antipodes system log: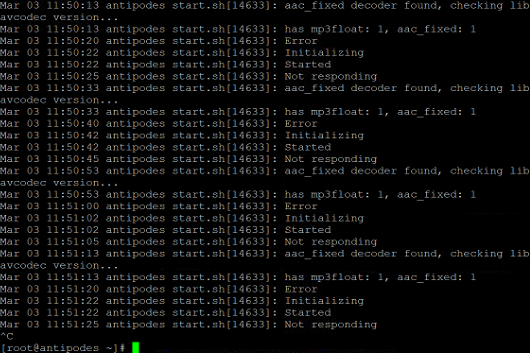 This issue has been occurring for several months, starting roughly around the time my Roon subscription was due (not sure if this is relevant). Roon Server had not stated during this time until spontaneously starting correctly a week ago; server had then been operational until yesterday when the behaviour returned.
Roon Server has been reinstalled by Antipodes several times and no other customers report this issue.