Core Machine (Operating system/System info/Roon build number)
ROCK, Intel NUC. Version 1.0 (build 183) stable.
192.168.1.9 (static) / 255.255.255.0
Control is running on iPad.
192.168.1.8 / 255.255.255.0
Network Details (Including networking gear model/manufacturer and if on WiFi/Ethernet)
NUC connected to Netgear AC1750 router via ethernet. Router firmware up to date.
Description Of Issue
This is a new problem. I've had this hardware for a couple years, and previously have not had trouble connecting to Roon Core. Now I do. I have not intentionally changed any settings, though it's always possible that a software update changed something.
I noticed it when the Roon Control software on my iPad couldn't connect Roon Core. I'm still able to access the web GUI by typing the NUC's IP address into my browser. When I do that, my impression is that Roon server isn't running reliably. Sometimes it shows that Roon server is running, but for only "15 seconds"; then I refresh, and the Server is running for "6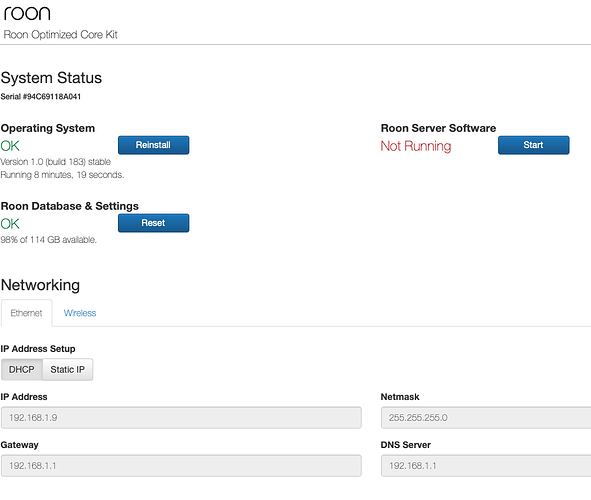 seconds"; on later refresh, it's not running.
I've power cycled my NUC, iPad, router, and cable modem. I've reinstalled the Roon OS through the web GUI. In an old thread, I found a suggestion to rename the "RAATServer" folder to "RAATServer_old". I tried that, and power cycled the NUC. The problem persists – Roon Control cannot connect to Core.
What should I try next?