Core Machine (Operating system/System info/Roon build number)
iMac (Retina 5K, 27 Zoll, 2019) 3,6 GHz Intel Core i9 (MacOS Mojave 10.14.6/Roon 1.7 build 667 stable/HQPlayer 4.7.2)
Network Details (Including networking gear model/manufacturer and if on WiFi/Ethernet)
iMac --> cat8 ethernetcable --> Devolo Magic LAN --> DC-line --> Devolo Magic LAN --> FritzBox 7590 Router --> Devolo Magic LAN --> cat8 ethernetcable --> La Rosita Gamma streamer
Audio Devices (Specify what device you're using and its connection type - USB/HDMI/etc.)
La Rosita Gamma streamer; shows up internally as USB 2 connected when ethernetcable is connected
Description Of Issue
Shortly I bought a La Rosita Gamma streamer, Roon 1.7 and HQPlayer Desktop for Mac. I run HQPlayer over Roon. Often I can't get a sound out of this setup although Roon shows it's playing, but the slider is standing still. Sometimes I can get it to work when I move the slider in the song a couple of times forward, but sometimes it won't work that way.
Here are some pics showing the system running Roon with HQPlayer: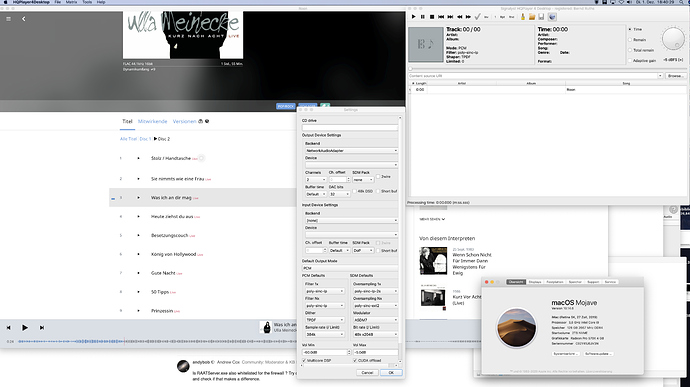 Here is the pic showing the La Rosita Manager where HQPlayer is enabled:

I tried rebooting the Mac, rebooting the La Rosita, then starting Roon and HQPlayer, but no rule there how to get everything to constantly play music every time I want to listen.
Very frustrating…
Does anyone know a solution? Did someone have a similar problem?