Core Machine (Operating system/System info/Roon build number)
Windows 7/AMD Athlon II X4 620/the newest version
Network Details (Including networking gear model/manufacturer and if on WiFi/Ethernet)
Audio Devices (Specify what device you're using and its connection type - USB/HDMI/etc.)
PCI SoundCard - Claro Halo
Description Of Issue
I downloaded and installed the trial version on yesterday. After setting only my local hard disk music folder, without any other settings, Roon performed a scan to build a music library. However, after several minutes passed, a window OS warning window appeared and the program was terminated.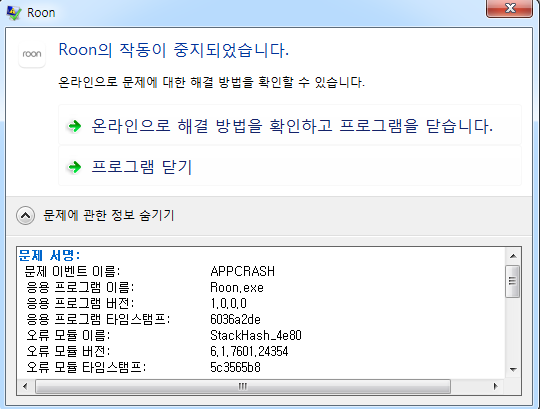 And then I found the root cause of this issue. It happens when the specific album folder was scanned by Roon. I think, it's problematic meta data makes Roon program into crash. But I don't know how to fix it. Is there any check point for solving this problem?