Is this a new problem, new install? Have you done any troubleshooting, rebooted everything?
It's a new problem, about a week. have rebooted everything.
To be fair seems to be more of an airplay issue. been happening all day with both phantoms on airplay.
Using my expert pro 440 this evening and hasn't happened yet, after 40mins.
Hi @Nick_Roome,
Does the issue occur for both streaming content and local library or just one and not the other?
Do you see any error messages appear when the issue occurs?
Hi, it's only streaming. I dont really have much local library. I use both Quboz and tidal.
I don't get any error messages.
Thanks
It sounds like your core is wireless?
I wonder if your router is doing 'smart stuff' like changing wireless channels and this is causing the disconnects? Does it happen if the core is wired to the router?
hi,
Can't test that as don't have ethernet socket on the Mac, nor do i have an adapter.
N
Understand. This is a stab in the dark, but does it get any better if you turn off Smart Wireless as a test?
Noris will get to the heart of this for you, I'm sure.
Good luck!
i'm on line with the provider to see if this is the case
N
Hi @Nick_Roome,
If you try to use Airplay from iTunes or an iOS device to these zones, do you also notice issues there?
Do let us know how the call with the ISP goes!
Order a lan adapter from apple and run a cable to the router. You can return the adapter witching 14 days if you don't get it to fix the issue…handy to have one anyway.
What is the hardware spec of your Mac! Can you screen shot the signal path when this issue is happening or while it's playing normally for this endpoint.
Could be the Mac is throttling down under load too or even overheating…are the fans running when it happens?
it happens when streaming outside Roon also, i.e Qobuz from an iphone.
ISP ran some checks and are sending an engineer and a back-up hub in the meantime.
My core is a MacBook air and it isn't young. It happens when streaming all music frpm radio to hi-res.
Add images
Add images
Most likely an issue with using wifi - if you hold down option and click on the wifi (ice cream as my old folks call it) in the top right of the menu bar and screen shot it (Command-Shift 4) you can show us the connection speed - image will be saved on the desktop. Hope you are not using apple air port router.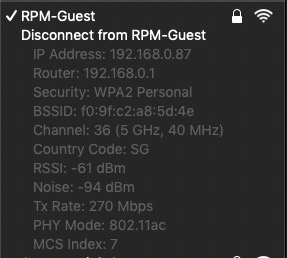 Hi @Nick_Roome,
If the issue happens outside Roon as well, then it suggests a networking issue, do let us know if the new hub and service call by the engineer helps fix the issue.
The engineer wont be here for 2 weeks. However the back up mini hub seems to have resolved the issue. I had to reset the airplay wireless speakers to the new network and will have to change networks to use my wired Devialet expert. At this point it would seem that the router is the issue. I might try and switch off the smart function and put everything back on one network and see what happens. But maybe not today!!..
Hi @Nick_Roome,
Thanks for the update here, it does sound like the router was the issue in that case.
Do let us know if you have further issues!
any chance of the Devialet phantoms becoming Roon Ready?
Hi @Nick_Roome,
We not have any news we can share at this time regarding Devialet Phatom + Roon Ready, I would suggest reaching out directly to Devialet to see if they can comment.
This topic was automatically closed 36 hours after the last reply. New replies are no longer allowed.