Hello,
Since this morning Roon is stuck on "initializing"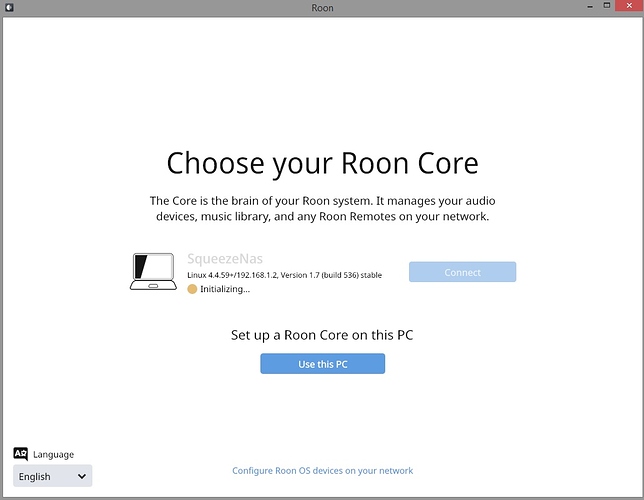 Running RoonServer on a Synology NAS DS918+.
Version 1.7 (build 536).
NAS is wired (LAN Cable) to the router.
I have multiple endpoints (one SBT, phone, tab)
Issue:
Less than 30 minutes after the update this morning, all my roon softwares were showing: "initializing"… I tried on my smartphone, on my tab and on my computer (Win 8), all we're showing the same "initializing".
The music was still playing (on a Squeezebox Touch connected via Ethernet to the router).
After one hour I decided to stop the roonserver package on the NAS. The music stopped.
Then I tried this:
Uninstall the package on the NAS
Delete the Volume (on a SDD in the NAS where there's only Roon on it, the music files are on another HDD on the same NAS)
Uninstall all my roon apps
Reinstall the Volume on the NAS
Reinstall RoonServer on the dedicated SDD on the NAS
Restart Roon via the WIN software.
At restart, the RoonCore on the NAS was found immediately as "ready"
I entered my account > the WIN Roon software closed immediatly.
I restarted Roon, and the same "initializing" issue came back.
I am a new Roon user (less than one week), I was planning to do a full backup just after my inital setup (uploading, scanning etc.) was complete, too bad, I cannot even try a fresh install from a backup…
Any help would be more than welcome, thanks.
Amine