Core Machine (Operating system/System info/Roon build number)
Core: Roon Server, build 528
Mac mini (late 2014), CPU i5, 8 GB RAM, macOS Catalina (10.15.3)
Remote: Roon, build 528
Mac Pro (Early 2015), 13-inch, CPU i5, 8 GB RAM, macOS Catalina (10.15.4)
Network Details (Including networking gear model/manufacturer and if on WiFi/Ethernet)
Mac mini —[1 Gbit Ethernet] —> Switch —[1 Gbit Ethernet] —> Router
Router: Synology RT2600
Switch: ZyXEL GS1900-8
Audio Devices (Specify what device you're using and its connection type - USB/HDMI/etc.)
Mac mini —[WiFi]—> Chromecast Audio —[Optical]—> DAC
DAC: T+A DAC 8
Description Of Issue
Hi,
I'm a happy Roon user since many years ago. Quite recently, I signed up for a TIDAL subscription, and I have been very pleased with the Roon/TIDAL experience.
However, a few days ago I started to get serious problems with the TIDAL integration with Roon.
Yesterday I needed to re-login to TIDAL. After following a tip about shutting down Roon Server (installed on a Mac mini) and remove the Roon cache folder, everything worked for a short period. While I was playing my TIDAL playlist (with no local content) I noticed problems when I was browsing around in the Roon remote GUI on my Mac Pro. I also experienced the same problem when I used Roon Remote on my iPhone.
The problems were that when I searched, I only got local content, nothing from TIDAL. And when I went to the Overview page I couldn't see anything. The page was blank, except the Roon icon flashing. However, I could go to the Playlist page and see the TIDAL playlists. So, in summary, I couldn't see any TIDAL content, but I could play TIDAL content in my TIDAL playlists.
Today, the problem got worse. I couldn't continue to play my queue, which was the content of my TIDAL playlist. And when I tried to browse around in the GUI, Roon started flashing "Error loading page. Please check your network".


So at that time I ran an Internet speed connection test on my Mac mini (where Roon Server is installed), and I had roughly 240 Mbit both up- and download, and 4 ms response time.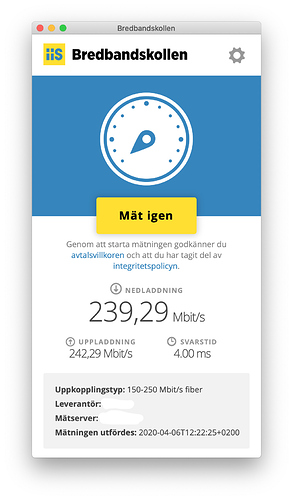 And now in the evening, when I tried to play some music again, Roon didn't show any TIDAL content. The overview page was blank, and after a while Roon told me I wasn't logged into TIDAL. Now I have tried to log in at least three times with the same result. The webpage shows that I've successfully connected my TIDAL account, but in the Roon application I'm still logged out.