So it does pick up stuff from Tidal then?
Not a fan of sonically similar as I am looking for more of a mix, not the same style and pace which is what seemed to happen when I tried it once. If your happy with a session like that I guess it works. But I do like how diverse RR can be at times. I might have to play with some settings and see if I can get it more how I want it
I have my hands full at work/in the workshop. That's where I use the radio feature.
In my library I have roughly 35 thousand tracks from physical media and 15 thousand from Tidal. I'm not bored of that collection yet! Sometimes I give Roon Radio free rein (library + streaming) but the results have never been focussed enough on the music I have time for.
It does seem to work for some better than others. Which is odd.
Not ever noticed Tidal. Coming into mine because it has to do sonic analysis on the songs so it seems local to me.
I have 50k tracks in my library, so I often forget albums from certain periods or band's and will often play those later after a session with Plex Radio. Sonically similar is great with a large library . That's what my (re) discovery comment was for.
If I want new music I just go into Tidal in Plex or Roon or Tidal itself and that works a treat for discovery
am now using Plexamp, thanks for the heads up. It's a good player. And Im now able to remotely connect to my home music/media server, which is great. I'm not experiencing any disconnects as yet which is nice.
appreciated, thanks. I think it's more "general" and random, my problem base with Roon. I'd like to hear more about better stability generally in these pages with subsequent builds of Roon, and then Ill probably retry it. Or if I get a windfall and can dedicate time and funds to sorting it out, I might also dip back in sooner.
thanks mike, Im pretty happy with Plex at the moment. Having said that, Im not quite sure yet how it will run with 200k+ tracks… will see. It's taking along time to index, and Im adding folders in stages, then testing, so it's relatively early days.
It's a good solution, not quite Roon quality, but it has a lot to commend it. I have been in Cornwall for several days and I have mostly been streaming via PlexAmp for the whole time, no mobile signal at all, but enough WiFi to download and stream almost non stop in the waking hours since I got here.
Hopefully you have some fun and I recommend making use of the audio analysis features if you have the paid version. I really like this feature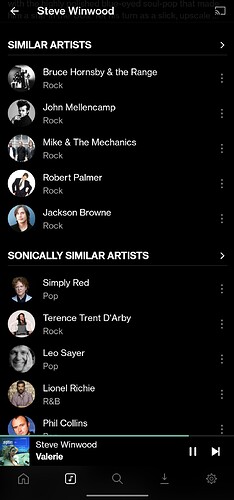 I am running Plex on a 8GB (and several year old) Synology with about 50k songs.
Besides the analysis which was painful and took about 2 weeks, I have had almost no issues.
On a decent Linux machine it would have been much quicker
yeah I am liking the pathways of similar artists, etc, it's giving me, A bit like Roon does (is that what Audio Analysis is?). Also… I notice there is a Random Album option which i LOVE to bits. The only other player which has got this (and only Android), which I've come across in over 25 years of PC and phone music, is Gone Mad player.
To my mind the Sonic analysis goes well beyond what Roon does and does it at the music level.
In most places Roon is ahead, but in this case Plex is well ahead and I hope Roon do something like this.
Still competition is great and while overall Roon still rank's above PlexAmp, there are a few places I now prefer PlexAmp (and especially while remote of course).
How do you get Sonically Similar to appear? I get Similar Artists, but not the Sonically Similar also.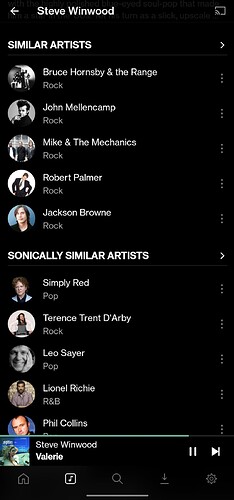 You have to be on the paid level and then it can be turned on in the settings. With your Library size it will take an age, but will be worth it. I get some very interesting choices from it.
Similar artists to me is similar to what Roon does
Plex pass? Ive got that. Is there a further plan?
Ok, i see, it's not active yet. I had to start a complete rescan earlier today, it's not kicked in yet methinks… Ive set it now as a scheduled task and as media is added to accelerate things.
per recommendations here…
Yes that makes all the difference.
Not sure how powerful you're Plex server is, but that will have a big impact. I was testing an early version that had issues with crashes and it took forever. Eventually it took 2 weeks, but if you're system is powerful enough it could be shorter.
Good luck with it
Its an old desktop, i7 16gb RAM, but from the dark ages 2013 if i remember rightly. Ive turned off the analysis for now; it slowed the indexing to a crawl, like you said it would.
I'll index the whole shebang, 200k+ tracks, and then see how i get on with the analysis part.
I'm up to around 80k tracks, indexed, and it's behaving itself quite nicely. Fingers xed it will be ok

You can always turn the sonic analysis back on if/when you go on holiday for about a month. Nice holiday if you can get it.
yeah, or overnight stuff