Roon Core Machine
Intel NUC 9 i5 (as adviced for ROCK, but now just installed in a windows config)
This thing is working just fine.
Networking Gear & Setup Details
Ubiquiti Unifi
Professional Wifi network installed.
Connected Audio Devices
Server: NUC > Roon Core
Endpoint riopee with tube headphone amp
A full sonosetup as roon endpoint.
Everything working just fine, exept for the issues above.
Number of Tracks in Library
88869 Tracks
Music on one external 6TB harddrive
Description of Issue
Hi, I have a dedicated Conference-Call-Laptop in another room. Now I want to play music using ROON using the connected Bose Companion 50 Speakers. So these are connected using USB.
As I see and can activate 'Bose Companion 50' in the audiosettings, I'm unable to play any music.
I noticed that I'm perfectly able to play music using the Qobuz app, and select the Bose Speakers using 'Direct Sound'. I don't think they understand Wasapi (which I also use on other devices to speak to dacs). How am I able to tell roon that it has to talk 'directsound' to these speakers. I see 'Wasapi' below the speakers in the audio overview, but am unable to change the protocol.
Anybody who knows the best way to use my bose companion 50 as an Roon endpoint?
I started with a raspberry pi with Ropiee, As I happily use that elsewhere, but that gave only a very distorted signal out of my speakers.
So first I try to get the thing going on this windows PC.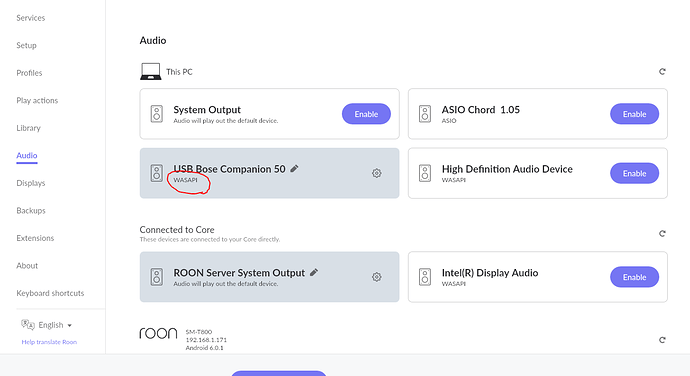 Thanks in advance!!
Thomas