I've reported this issue before (in a rather confused way: Lyrics from file tags not showing as expected), but after some initial responses from @beka & @Dylan, they seem to have dropped it (& I believe the latter left Roon). The problem continues to frustrate me, so I'm trying again.
Here are the synchronized lyrics Roon displays for track 5 of Philip Glass' "Songs from Liquid Days":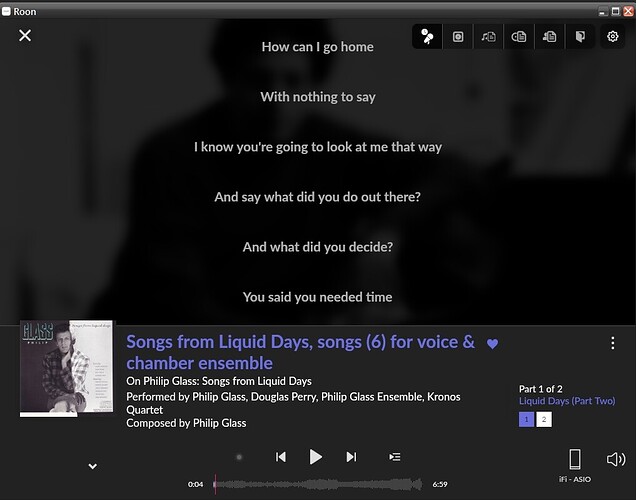 They're simply the wrong lyrics. Don't know where Roon got them or what song they might belong to, but they have nothing to do with the Glass track.
I've long since set "Settings | Library | Import Settings | Lyrics" and "Settings | Library | Import Settings | Timecode lyrics" to prefer file, supplied the static correct lyrics in a LYRICS tag, and rescanned the album, and in fact Roon will show them in the "View lyrics" popup, but still displays the incorrect synchronized lyrics in the lyrics tab of the now playing screen: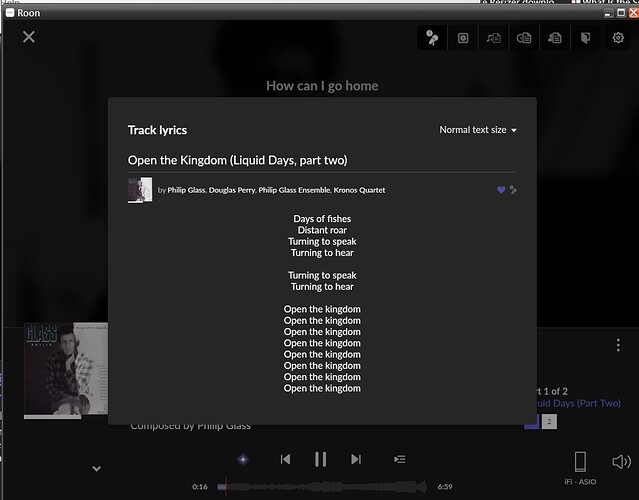 How can I fix this? Does Roon require that I supply synched lyrics to replace its incorrect synched lyrics? What tag and what software would I use? From what Google tells me, creating synchronized lyrics is an extremely tedious business. Is there no easier way to fix this problem and other problems like it?