just install ropieee on the cm4,the system cannot recognized the onboard wifi
The Compute Module 4 IO Board does not have wifi.
my version has wifi and bt on board,when i install the moode,moode can recognize the wifi,and airplay,roon stream the music very well through wifi,
my cm4 is lite version 2g with wifi CM4102000
i install the dietpi, when i chose the wifi on in the config, dietpi download the file and install driver, than i can see wifi is connect. if you can , could you tell me how to install driver at ssh mode. because ,there is no config command ,when i ssh the ropieee
83848e5abeae92ee
here is my feedback no
I think I have found the issue. If you switch to the beta channel it should be fixed now.
Thanks
thanks for your reply,i will try beta version today ,and Keep you imformed
and where can i download beta.version, if i can update to beta version at first boot?
Go to the 'advanced' tab and select 'beta' for update channel.
In Ropieee's web interface under tab "Advanced".
Be aware, that you'll have to reflash your SD card in order to get back to stable again.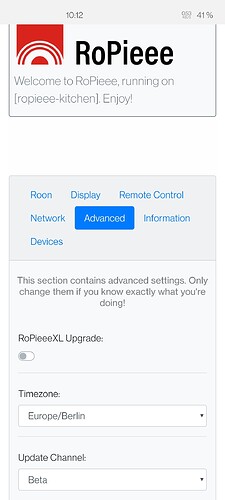 i have switch to beta version. but still cannont find wifi
now the version is 3.118 beta
Here is my identifier e8f0e3fbce8d985a. Ropieee still cannot enable the wifi on board