Hi there fellow Roonians!
I've been successfully running Allo USBridge Sig with RoPieeeXL (version 3.088) on it and was able to stream via AirPlay to it from 3 different iPhones. Volume control is set to "software" in the Shairport and everything worked flawlessly. I was able to control the volume from the phone connected via AirPlay or when streaming via Roon - using DSP volume.
Today I started some music in Apple Music on my phone, tried to adjust the volume as usual, but it didn't work.
I checked the settings, tried setting up volume control as "none", committed the changes and rebooted RoPieeeXL. Then returned the volume settings back to "software" (committed, rebooted). No luck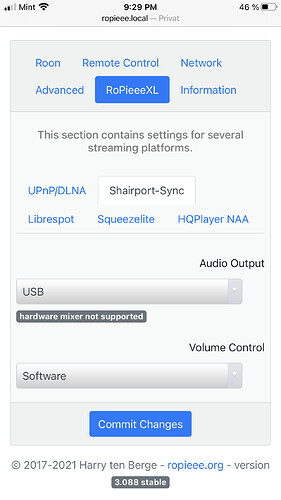 Roon DSP volume keeps working just fine. But AirPlay volume doesn't work. Tried streaming from different phones.
Nothing similar could be found here in the threads as far as my search can tell.
Anyone had similar issue? Would appreciate any recommendations on where to look next for possible fix.
Thank you!