Not sure if I'm understanding you correctly, but here goes:
Select a specific Parametric EQ filter set, then save it as a DSP Preset with the same name (see screenshot).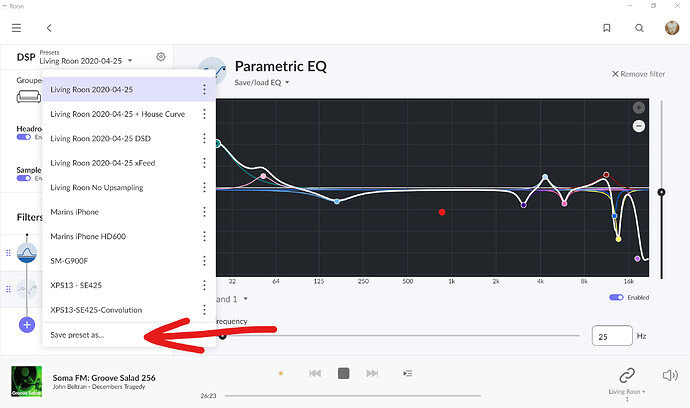 You can incorporate headphone correction via convolution files in the same manner.
This enables you to switch and identify them even from a mobile remote then, which doesn't give you access to the PEQ settings.
Does that answer your question?
thanks for your help but i try to explain myself better . Which equalizer profile works if I have saved three profiles?
Probably still don't understand exactly what you're trying to ask, when using the word 'works'.
Could you possibly expand on that please.
If you have saved three DSP profiles, then you will see those three profiles in the dropdown list - as shown in your screenshot. Choose the one you want to apply the settings for that profile. These will remain in play until you choose another.
I was just about to write the same accompanied by a screenshot of me using a PEQ house curve on top of everything else…
If I click the DSP Presets dropdown after having first clicked the Parametric EQ selection bottom left, it shows the 'working' PEQ graph on the right side of the screen.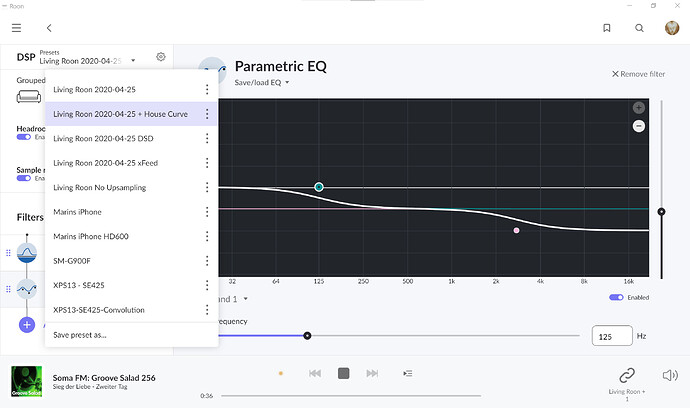 where those EQ are stored in case I need to switch the core computers?
They're included in Roon's database backup.
I still don't get it. I choose the one from 3 filters,I see graphic curve change but is not way to see the name of the filter I selected anywhere…
It should say what is selected somewhere on the screen.
I think what you are saying is that in the individual filters, the selected filter name doesn't show (2 in the screenshot below). However, you can save all your individual settings in a group preset (1) and that name is displayed…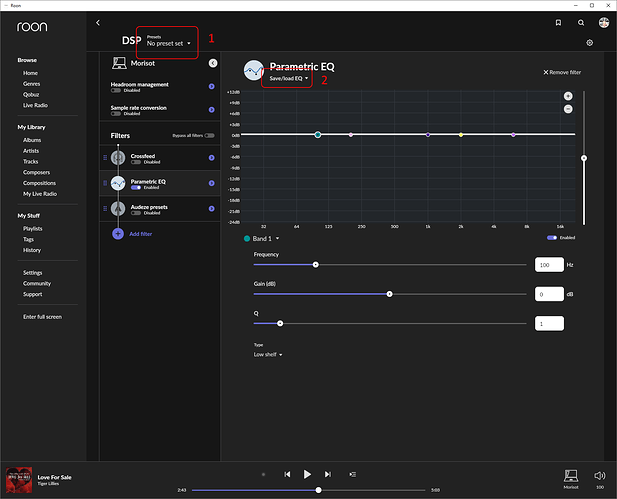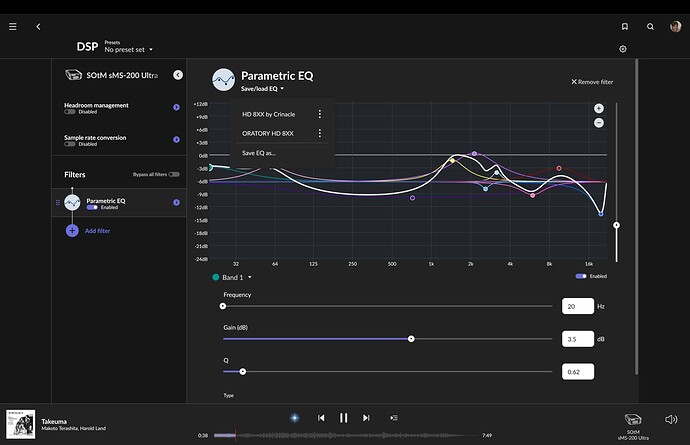 Don't know how but to me it should be a more inteligent way.Once you load a filter,it should let you know what is selected.
Yes I see now but it save both filters under one name…
Not true. I've saved two different EQ settings as Test 1 and Test 2. I've then saved a Group setting with Test 1 selected, and named that Test 1. I've then selected the Test 2 EQ setting. and saved a new Group setting called Test 2.
The Group settings Test 1 and Test 2 clearly show different EQ filter settings…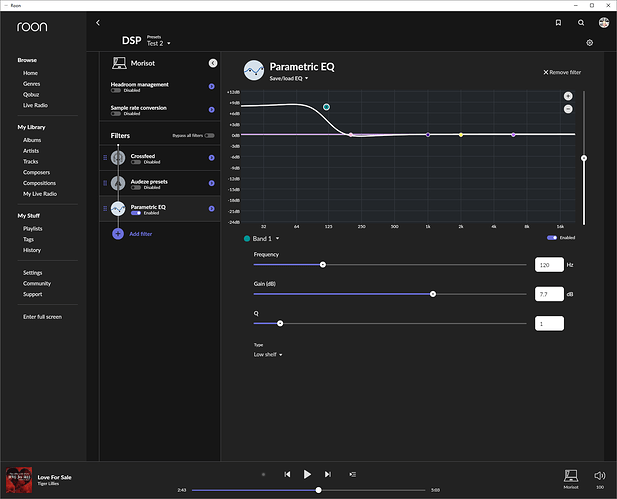 What you may be getting confused by is the fact that, when you select a new Group setting, you should reselect the individual filter (e.g. the EQ filter) to refresh the filter panel with the new settings.
You're right but like I said…why complicate?
Load/choose one filter and show that choosen option on PEQ interface…more intuitive.
Thanks
I suggest that you make a post in the Feature Suggestions category as an improvement of the user experience, and vote on it to kick things off. The posts are read by the Roon team.