Core Machine (Operating system/System info/Roon build number)
Windows 10 Pro
i5, 8gb, 128gb SSD
Dedicated as Roon core
Roon server 1.8 build 783 64bit
Network Details (Including networking gear model/manufacturer and if on WiFi/Ethernet)
Huawei HG569
1000mb ethernet
Audio Devices (Specify what device you're using and its connection type - USB/HDMI/etc.)
Samsung Galaxy Tab A 10.5 2018, Android 9.0, Roon Remote 1.8 build 783
Listening via Chromecast Audio into Schiit Modi 3 via Optical
Description Of Issue
When reading the Pink Floyd bio scrolling is very difficult and impossible when on the second half of the bio text. Happened to notice that it scrolls perfectly when using the small blank space to the left of the text and the large blank space to the right of the text.
This occurs in both portrait and landscape orientation. Does not happen on my Andriod phone.
Felt it was easier to show you the issue via video, so recorded the issue with 'Show taps' and 'Show layout bounds' enabled in the Andriod Developer Options menu.
Link: https://drive.google.com/file/d/1-B9yPBBqDhn6_ok1UnfkANM6a4W4Di0d/view?usp=drivesdk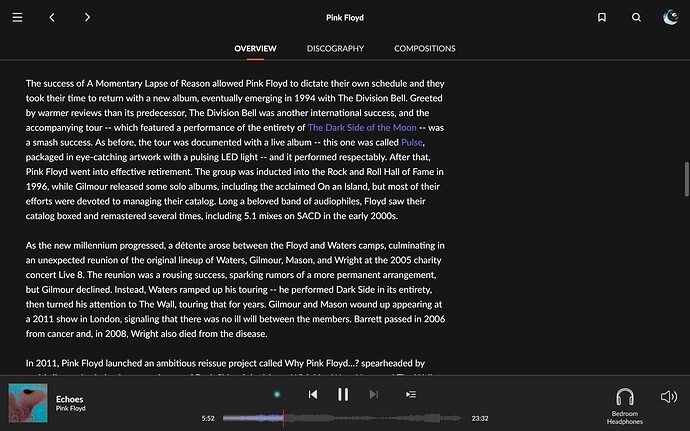 Hope this helps.
Cheers,
Mike