Yep! Me as well.

It's a specific case, but if you're looking for albums on the ECM label search on Manfred Eicher and then expand all the albums he was producer on. Which is pretty much all ECM albums given he is Mr ECM.
Please add search function by record label outside library!!!
When I try to search labels such as Blue Note and ECM within Roon, Roon shows search result only within my local library and it does not show anything from Qobuz. When I search same in Qobuz client on same PC, Qobuz client shows search results of such labels. Is there any way to search labels of Qobuz through Roon?
Roon can only do a label search on in-library content. There are Feature Requests asking for what you want. You might go to them and add your vote to show support.
Here you go, cast your vote at the top of the thread!
almost 90 comments and I'm sure it's a resource that would benefit the entire community. My annual license is about to expire and I will evaluate if I should continue with Roon without this feature, it is essential for me and for many other users!!
Adding one more voice to this request. Please add support for search by label on Qobuz and Tidal catalogue.
I just don't see how this type of search is practical.
Simply looking at Discogs and searching for ECM returns 8,392 results.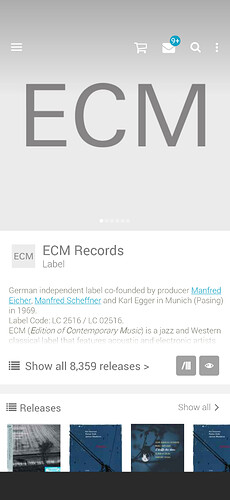 I suppose that'd be were you "focus" on specifics to narrow down your search.
It depends on the label. E.g. in indie rock or electronic there are countless labels with a tight identity that means something, and a smallish output. E.g., I collect SST Records with about 370 releases and distinguishable phases during the label's development that I'm interested in. Or an artist's career may have different phases over the years that are associated with stints at different labels. Bands like Sonic Youth or Melvins used to release more experimental albums in parallel on small labels while contracted to majors for album releases with more widespread appeal.
And as @Reza_Shahbazi wrote, for larger labels you might use additional focus criteria, such as ECM Records from a particular year, recorded by a particular engineer, or by a particular musician.
About 35 requests and 55 commentaries etc.
So about 0.01% of the 300k users.
The thread makes me feel like an enthusiast, whenever I'm looking for an item on a specific label (a rare occasion for me) I go the the record label website and search, it's not a major effort and if all else fails our friend Google usually resolves my query, just a thought!
That could be said about absolutely everything Roon does (regarding metadata) - you could do the same with more work on Google and a long list of other websites
That's what I do… and I use many other websites, too. And often enough I am discovering an album that seems interesting enough to warrant a listen, only to find out that it isn't available on any of the two streaming services supported by Roon. I would appreciate to be able to search inside Roon a particular label's discography available to me… that is, available in my local library and/or on any of the two streaming services integrated into Roon.
This request at this moment counts with 75 votes, so it seemingly is not an altogether esoteric use case.
By this metric, there are barely any feature requests that should be implemented. Surely, the rank by the number of votes on the forum is more relevant than the percentage of the overall number of Roon users.
(And I don't know where 75 votes rank, but the principle)
Perhaps that's why they don't get implemented

It's all just to keep us occupied

"Focus" needs to be part of the request. Otherwise, it's not going to be useful.
Interesting to see comments against improvements in the program that would benefit all users.